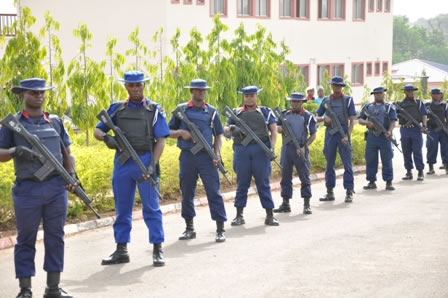 Non Patriotism, Indiscipline Among Personnel Still A Challenge – NSCDC
–
Loading ...
By Nedum Noble
Nigeria Security and Civil Defence Corps (NSCDC), in Anambra State, has identified indiscipline among the personnel, non-compliance with the corps ethical values, diminishing patriotism and loyalty, as some of the challenges facing the corps.
The Assistant Commandant, Solomon Ekeopara stated this while delivering a paper on, 'The History of Civil Defence and International Civil Defence Day on the occasion to mark the International Civil Defence Organization World Celebration Day in Awka.
He revealed that the Corps became a full para-military agency of the Nigerian government by the NSCDC Act 2003, which was amended in 2007 in order to provide expansion of responsibilities and to enhance effective service delivery.
Earlier, the State Commandant, of the Corps, Mr John Ahwen, challenged the officers and men of the corps to be dedicated in their service to the nation in view of its three major roles of protecting the population, property and the environment.
He said the corps was celebration its capacity to manage disasters and overcome some of its challenges.
He expressed appreciation to the state governor, Willie Obiano for his immense assistance to the command, as well as officers and men of the command for their loyalty, support and co-operation.
The event which had as its theme, "To bring to attention of the world public, the vital importance of civil protection and of raising awareness of the preparedness for protection and self protection measures in the event of accidents or disasters", wetnessed the cutting of the International Civil Defence Day cake by Commandant John Ahwen and other senior officers of the corps.