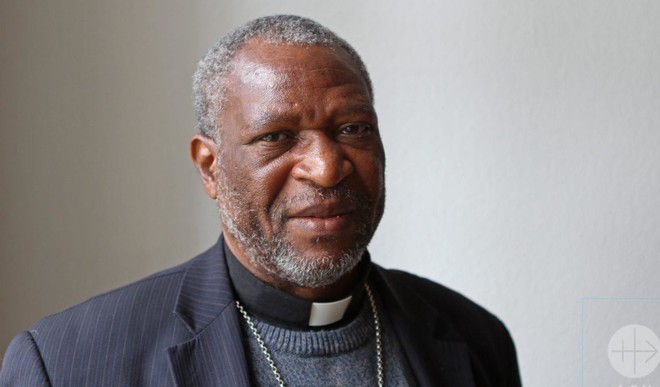 Bagobiri: El-Rufai Yet To Make Condolence Statement
Loading ...
…burial ceremony kicks off with colloquium.
… Bishop Kukah to deliver homily before 10,000 congregations
–
By Luka Binniyat
KAFANCHAN: Governor Nasir el-Rufai of Kaduna state was yet to make any condolence statement two weeks after the passing away of Bishop Joseph Danlami Bagobori – the out spoken Catholic Bishop of Kafanchan Diocese –  said an official of the diocese.
Bagobiri died in Kaduna at the resident of the Arch-Bishop of Kaduna Arch-Diocese, on the 7th of March. He had been suffering from renal failure and had been on dialysis.
Meanwhile activities marking the burial ceremony of Bagobiri, regarded by his flock, as the 'peoples Bishop' kicked off on Tuesday with a colloquium in his honour.
Also, not less than 10,000 Christians of all denominations, all Nigeria Catholic Bishops and most of their counterparts from other denomination and an array of VIPS are expected at the burial mass of the 61 year old priest from Kagoma, Jemaa Local Government Area, (LGA), in Southern part of Kaduna state.
Fielding questions from our correspondent in Kafanchan on Wednesday, the Coordinator, Media and Publicity of the Burial Ceremony, Rev. Father Mark Chetmun said that as at last Tuesday, two weeks after the demise of Bishop Bagobiri, Kaduna state governor, Mallam Nasir el-Rufa nor the state government were yet to issue a condolence message on death of the Bishop
Bagobiri is known for his strong position against what he termed, the "anti-people" policies of Mallam Nasir el-Rufai.
"I can confidently tell you that we have not heard nor received any condolence message from the government of Kaduna state. Unless that happened yesterday evening or this morning. You can go and check our condolence register; there is no one from Kaduna state government that has come to register any message on behalf of the government.
"I am aware that Jemaa LGA administrator came to commiserate over the death of our leader, not the state government, that is what is what I can tell you," he said.
It could be recalled that governor el-Rufai had in a Television interview on Channels TV in   2016 threatened to arrest and prosecute some vocal Christian clerics from Southern Kaduna who had accused both the federal and Kaduna state government of not doing enough to stop the killings of southern Kaduna natives and the destruction of their communities by alleged armed herdsmen. He accused them of being "bigots" and "conflict entrepreneurs," though he did not show any evidence. Bogobiri, who represented the Christian Association of Nigeria (CAN) at the 2014 confab, was believed to be top on the list.
At the Tuesday Colloquium, which took place at the Cathedral of St Peter Hall, Kafanchan, Vice Chancellor, Albertin Institute, Kagoma, founded by Bishop Bagobir, said of the late Bishop: "This spirit filled, diligent and exemplary Southern Kaduna cleric never forgot his root for one day, even while serving the country at the global community. He was a voice of hope, a voice of reason and a voice of the masses. A strong and eloquent voice indeed we at the 2014 National Conference where he led the CAN Team, Unfortunately, the peoples Bishop is gone now," she lamented.
Speaking on the topic: "Bishop Bagobiri: Birth, Early Life, Education and Journey the Priesthood," Rev. Fr. Professor Peter Bauna Tanko made light the sombre mood when he spoke of the late Bishop's days as a seminarian.
"He belonged to the Charismatic Renewal group in the Seminary. That group led a pious life and they saw us the non-members as lesser mortals. They saw themselves as having spiritual advantage over us. He would call me and tell that some of the things I was doing were wrong and I will tell him to please pray for me. He prayed, but he failed to change me. . . Thank God I have now changed," he said.
"He played football, badminton and Lawn Tennis and he hated defeat.  Once his team lost by three or more goals, he would stand akimbo and look on with utter despair. Then he would simply walked away to avoid any quarrel," he said.
Rev, Fada  Willaims Kaura Abba, the lead speaker, praised the courage, intellectual acumen of  Bagobiri, saying he started the Kafanchan diocese from scratch and within a decade, it surpassed some much older Diocese in number of priests, parishes, schools and other facilities.
Barrister Mark Jacob, former Kaduna state Attorney General and Commissioner of Justice, who spoke on the topic: "Bishop Bagobiri and the Socio-Political Development of Southern Kaduna and Nigeria," told the audience that Bagobiri feared God, but was not afraid to speak truth to power.
On the final burial rites, Father Mark Chetmun had this to say to our reporter: "We are expecting at least a 10,000 strong congregation. They will include all the Catholic Bishops of Nigeria or their representatives. Other high ranking clerics from other denomination will also come. There will be many VIPs also.
"The Funeral mass will be led by the Catholic Arch Bishop of Kaduna Arch Diocese, Arch Bishop  Mathew Man-oso Ndagoso. The homily will be delivered by Bishop Mathew Hassan Kukah, Catholic Bishop of Sokoto Diocese. The mass will start by 10am prompt," he said.
Our correspondent who was at the Kafanchan new Stadium, reported that workers were seen putting final touches to the alter, and installing electronic  gadgets . He also saw the tomb, inside the main church of Cathedral of St. Peter, Kafanchan, the final resting place of the Bishop.