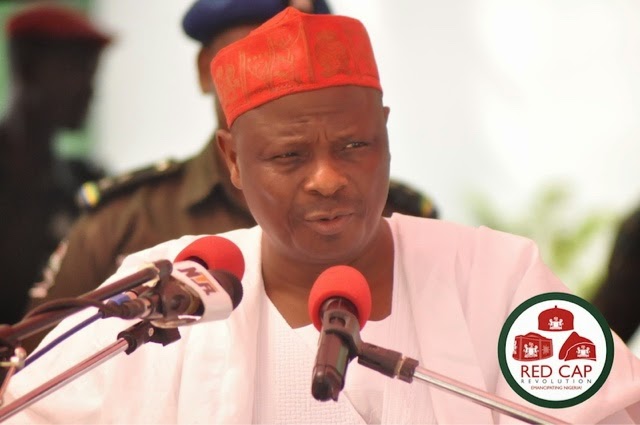 Re: Much Ado About Senator Rabiu Musa Kwankwaso's Visit To Kano – By Malam Muhammad Garba
Our attention has been drawn to a letter addressed to President Muhammad Buhari and published in page 49 of Daily Trust of Sunday, January 28, 2018. The letter dated 15 January, 2018, was sponsored by a group which called themselves KANO STATE CONCERNED ELECTED REPRESENTATIVES.
Ordinarily, we would have ignored them and their gospel of blackmail knowing fully well that they only made an attempt to distort history. There is no need dwelling on the history of political relationship between Governor Ganduje and Senator Rabiu Musa Kwankwaso, but what is expedient is to re-establish facts and identify who really has been the benefactor among the two leaders,   though it has been an open secret how Governor Ganduje has, in several occasions, made sacrifices for Senator Kwankwaso to ride higher in the field of politics.
In the aborted Third Republic, it is on record that Governor Ganduje who was already established politically, used his time, resources and connections to ensure the victory of Senator Kwankwaso to the House of Representatives where he eventually emerged Deputy Speaker. The same scenario played out in 1998/99 when the elders of the Peoples Democratic Party (PDP) were shopping for a governorship candidate in Kano. Though Ganduje won the primaries, but some party elders prevailed on him to allow Kwankwaso to bear the flag of the party while he would serve as his running-mate, Ganduje accepted! As a loyal party man, Governor Ganduje though deprived of his right for reasons best known to party elders, also invested huge financial resources to ensure Kwankwaso's victory as elected Governor of Kano state in 2009.
It is on record that Governor Ganduje remained one of the most humble and loyal Deputy Governors in Nigeria even in the face of intimidation by Kwankwaso. In most cases, he was not being carried along in very important issues concerning the day-to-day running of the affairs of the state. Governor Ganduje never complained, rather he worked even harder at his own pace and maintained his loyalty to Governor Kwankwaso.
In the build-up to 2015 elections, it was on record that Kwankwaso's lieutenants (some of which signed the letter) ganged-up and plotted to ensure that Ganduje did not emerge as the All Progressive Congress (APC) governorship candidate but at the end, the will of God prevailed.
It is, indeed, laughable that this same group said Governor Ganduje 'reintroduced" thuggery in Kano politics! Even people who are not resident in Kano can attest to the fact that Ganduje's administration has been adjudged the most peaceful, organized, focused, people-oriented and as well, driven by the dictates of the Constitution of the Federal Republic of Nigeria and the Commandments of God which guarantees respect to human life, dignity and social justice. This explains why both indigenes of Kano and non- natives have embraced the administration as the most peaceful so far in the history of Kano. Opposition parties in the state are giving freedom to play their politics and criticize the policies of government. Since the inception of Governor Ganduje's administration, there has never been report of any clash between supporters of the ruling APC and other political parties; and Kano is the only state in Nigeria that has recorded such a feat. The only headache the state has remains the irresponsible disposition and misconduct of supporters of the Kwankwasiyya Group who at all times; remain in the mood of war.
To say the least, Kwankwaso's administration has been identified by analysts as the most violent in the history of Kano politics and the facts are there because history can never be erased. He is well-known for fighting his benefactors, including the first civilian governor of Kano state, the late Abubakar Rimi who he fought till death. When he won elections in 2011, he practically confined his predecessor, Malam Ibrahim Shekarau under house-arrest as he at one point refused him to step out from his compound to observe prayers. As a Defence Minister, Kwankwaso used federal might to fight Shekarau who was a sitting governor. During Kwankwaso's tenure, one can lose count of bloody political clashes. His lack of respect for elders can be exemplified in the way and manner he treated the late Emir of Kano, Alhaji Ado Bayero; and what happened during Kwankwaso's condolence visit at Ganduje town is still fresh in our memory.
In fact, nobody is afraid of Kwankwaso's visit. The only truth is that his visit to Kano would not add value to the lives of the good people of Kano state. It was not in our interest that he later canceled his planned and well-publicized visit. I believe he did it in his own interest. Nobody panicked over his visit. The people that created tension were his supporters, in their desperation to make a mountain out of a mole hill. If he had visited, he would have been ashamed of himself after witnessing the tremendous achievements of Governor Ganduje, he would have marked himself a total failure. He would also have had the opportunity of hearing the cries of members of his constituency (Kano Central) who he abandoned since his relocation to Abuja.
Kwankwaso is running a parallel APC leadership in Kano state of which one of the signatories of the purported letter to Presidential Buhari, Umar Haruna Doguwa, is the chairman of the rebel group that refused to adhere to the directives and decisions of the party's national secretariat.
It is important to note that Governor Ganduje has, all this while, made himself available for peace parleys organized by concerned individuals, party members, friends and the party national leadership during which Kwankwaso shunned the option of peace for reasons best known to him.
We are surprise that Hon. Aliyu Sani Madaki, representing Dala Federal Constituency and a signatory to the purported letter to President Buhari is asking for police protection! This is the same Hon. Madaki who made inflammatory utterances against President Buhari and security agencies, now running to the same people he openly disparaged for protection when nobody is after him!
To the best of our knowledge, security agencies in the state are simply doing their job, to ensure peace and order. At no time has Governor Ganduje instructed them to stop Kwankwaso from coming to Kano. At no time has Governor Ganduje instructed security agencies to stop rallies organized by the Kwankwasiyya Group. Before now, they have been holding a series of rallies in the state and nobody stopped them. Just recently, they held a fund-raising ceremony right at the heart of the city and nobody disturbed them. One of the signatories to the purported letter to President Buhari, Hon. Abubakar Nuhu Danburam was the chairman of the fund-raising. He came from Abuja and he moved freely enjoying the social amenities and infrastructure provided by Governor Ganduje's administration and nobody harassed him. Now, who is fooling who?
We appeal to President Muhammadu Buhari to ignore this group and their co-travelers. Their ambition is to distract Governor Ganduje from delivering the change mantra of our great party, the APC, to the good people of Kano state. We remain honored and encouraged by Mr. President's assessment of Governor Ganduje's performance when he was on a two-day working visit to our dear state late last year. We only promise not to disappoint Mr. President as his next visit to Kano will live him with sweeter memories.
For all we know, the ranting of the Kwankwasiyya Group and their leader is just a ploy to distract Governor Ganduje. We understand their gimmicks, but we will never fall into it. However, the world must know the truth. Governor Ganduje remains a gentleman in politics who is there to add value to the lives of the people and make Kano great once again.
–
Malam Muhammad Garba is Kano state Commissioner for Information, Internal Affairs, Youths and Culture