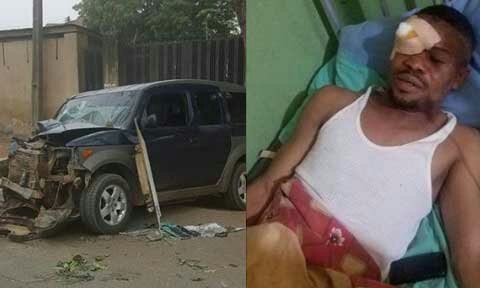 Popular "Jenifa Diaries" Actor Hospitalized After A Fatal Car Accident [Photos]
–
Loading ...
Nollywood actor and comedian, Adekunle Ayanfe popularly known as Alfa Monsuru is hospitalized following a fatal car crash.
His colleague and fellow actress, Lawal Rukayat shared pictures and appreciated God for sparing his life.
She wrote;
Alhamdulilah,i alhamdulilah,i alhamdulilahi tank GOD for ur life brother @monsuru_omoalfa.
Ayanfe Adekunle, also know as MONSURU is a fast rising Nollywood actor that is beginning to feature prominently in most films.
He is a graduate of Ajibode Grammar School and the University of Ibadan.
The actor was also trained under Razaq Olayiwola, Ojopagogo of Razol Entertainment.
He was also among the cast of the popular comedy series, "JENIFA DIARIES".
Source — Gistreel