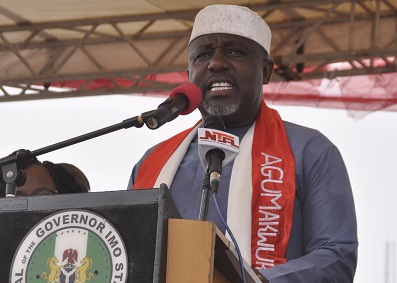 Parents Of Children Who Hawk, To Be Arrested & Prosecuted – Okorocha
Loading ...
– Says Law To That Effect Already Passed By State Assembly
– Appeal To Well-Meaning Nigerians To Come To Imo & Build Tertiary Institutions
Governor Rochas Okorocha has said that parents of Children of School age who allow them to hawk instead of sending them to School will be arrested and prosecuted, adding that the law for the implementation of the policy has been okayed by the State House of Assembly.
Apart from parents who prefer allowing their Children of School age to hawk to sending them to School, parents and guardians in the State who for other reasons do not send their Children and wards of School age to School will also be arrested and made to face the law, stressing that parents and guardians in the State have no reason to keep their children and wards out of School.
The governor made the speech at the seventh (7th) year Anniversary of the free and qualitative education, from the Primary to the University in the State, on Wednesday, February 14, 2018 held at Heroes Square Owerri, adding that he appears to be the happiest man on earth today because the free education he introduced Seven years ago has become a huge success today.
He remarked, "My desire is to see that every child of Imo must be educated. I see education as life itself. Hence, I was propelled to introduce free education at all levels. My joy knows no bound that if I finish as governor today, I would have fulfilled my heart desire of eradicating illiteracy in the State".
The governor also revealed that there has been an explosion in School enrolment in the State because of free education which he said has gone from 280,000 in 2011 to more than One Million in 2017, calling on well-meaning Nigerians with what it takes to come to the State and build tertiary institutions.
His words "My greatest gift to Imo people is free education, especially on this lovers' day. Today, we have built three more Universities, more Polytechnics and Colleges of education. We shall continue to invest in that direction so that hundreds of thousands of our Children always denied admissions every year even when they meet all the requirements can be taken care of".
He continued "Imo State has the education population to fill as many Universities as possible. In Imo our greatest industry is education. We have also begun to make Schools in the rural areas attractive. The Science Laboratories are going to be fully equipped before the end of May. We have three Commissioners for education because of the importance we attach to it".
The governor said, "It is my desire to have a successor that will sustain free education and not the one that will give excuses. Teachers and Head Schools must continue to be encouraged. They should also fight the use of illicit drugs like Indian hemp in their Schools. The quality of education in the State is high".
The Registrar of Teachers Registration Council of Nigeria Professor, Josiah Adewole described Governor Okorocha as a heavy investor in human capital with the free education in Imo and that he is investing for generations yet unborn with the policy, adding that Imo is leading on issue of education in the Country.
He said Imo teachers are not being owed salary and that was why he opted to attend the function, stating that he would not have come if teachers in the State were being owed salary.
Chairman of the event Prof. Uba Nnabue urged the elite in the State to convert their criticisms into actions by going to the Schools as individuals to invest, adding that what Governor Okorocha needs is encouragement and not undue criticisms.
One of the highlights of the event was the handing over of the Cheque of N13.7m to one of the beneficiaries of the free education programme, Dr. George Ekenze who emerged the overall best Student at Imo State University in 2016 and given automatic employment by the governor and the Cheque is for him to pursue his Masters in the United Kingdom.
A teacher also won a KIA Saloon Car, while many others won television sets and other items.