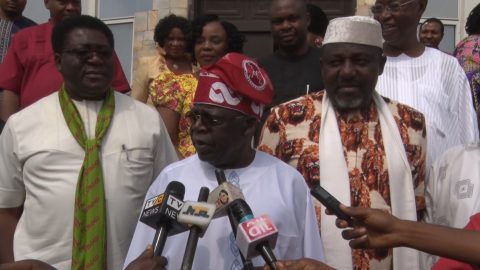 Contentious Open Letter: "Obasanjo Was Playing Politics" – Tinubu
National Leader of All Progressives Congress, APC, Senator Bola Tinubu has said that the Former President, Chief Olusegun Obasanjo was playing politics with the open letter he wrote to President Muhammadu Buhari which has generated controversy, adding that if the Former President had meant well he would have met with the President to talk about the issues he raised in the letter since he was Senior to Buhari both in the army, as head of State and as President.
Loading ...
Senator Tinubu spoke in an interview with Journalists when he visited Governor Rochas Okorocha in the company of the pioneer National Chairman of APC, Chief Bisi Akande at the Government House Owerri, on Friday, February 2, 2018, adding that the Former President has several ways to met with the President and discuss issues.
His words "They both had the same background. So, I believe that would have been the Conversation of military heads of State retired. They have unfettered access to each other either through the Council of States or any other means, he could see the current President privately. He, Obasanjo was also his senior in the army, I think Obasanjo was playing politics with the public letter. That is all I see. They also met at the African Union meeting too. He has a way of discussing with the President any time he wants".
On the coalition, the APC Leader stated, "the appropriate time is not now for the response to the coalition government, but we are in democracy, in a country that is signatory to the charter of the United Nations which advocates for free movement, free association, free speech. It's very good".
On what brought him to Owerri, Senator Tinubu said, "I am here to see a very good friend of mine, the governor, Owelle Okorocha who happens to be the governor of APC State and then pay respect to the gentleman, nationalist, great leader of our generation".