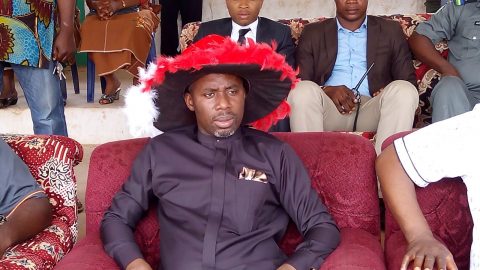 2019 Guber: Imo APC In Crisis, Youths Exchange Blows …As Nwosu's Guber Bid Suffers Setback
Loading ...
The rumoured severe internal crisis rocking the ruling All Progressive Congress (APC) in Imo State was Tuesday, February 13th, 2019 played out, following serious misunderstanding among youths of the party over a Governorship candidate to endorse for 2019.
Our reporter who monitored the show of shame at the Imo Youths Center, Owerri said that Adviser to the Governor on Youth, Hon. Kenneth Emelu had invited the eight youths structures within APC to endorse a candidate, but seeing that the meeting was a pre-arranged platform to favour a candidate against the constitution of the party, majority of the youth walked of the meeting while rejecting the exercise.
A leader of one of the youths structures, Mr. Ibe Nwaneri who spoke on behalf of other groups expressed dismay over the exercise, insisting that since pre-endorsement or mock primary were not recognized by the party, there was no need for any sane party faithful to be part of it until the constitutionally recognized primary is conducted.
According to him, since people like the Deputy Governor, Prince Eze Madumere, former SGI, Sir Jude Ejiogu and Engr. Chunks Ololo were interested in the APC Governorship primary, it would be for the interest of the party to carry everyone along, pointing out that whoever emerges as candidate, would be embraced and supported by them.
He therefore condenmed the manner in which some overzealous members of the party were ridiculing the image of APC, expressing annoyance that if it continues, the party may lose the number one position in the state.
Meanwhile, no fewer than ten APC youths who attended the meeting sustained various degrees of injury, while majority of the aggrieved ones rejected the Chief of Staff Government House, Ugwumba Uche Nwosu for the governorship seat in the state.