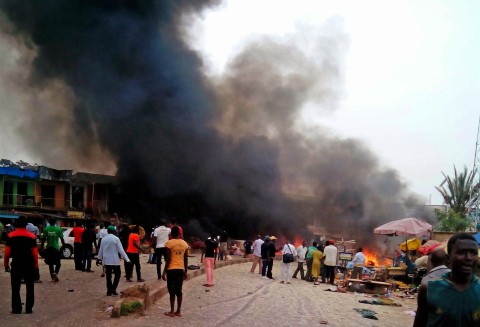 Suicide Bomber Kills Own Father, 9 Others In Mosque
A suicide bomber yesterday stormed a mosque in Borno State during the dawn prayer and ignited his bomb, killing himself and nine other worshippers, including his biological father, and injuring many others.
The suspected teenage Boko Haram bomber was said to have targeted the mosque located near his father's house at Abuja quarters of Gamboru town and attacked the worshippers.
A survivor of the attack, Muhammau Mustapha, said while evacuating the victims they had identified 11 corpses, including those of the suicide bomber and his own father.
"Around 5 o'clock in the morning when I was on my way to the dawn prayer, I heard a loud sound of a bomb explosion inside the mosque I was heading to. I stopped, turned immediately and returned home. After some few hours, I went back with other people to evacuate the victims. We identified 10 corpses," Mustapha said.
Another witness, Sherrif Abba, added that the suicide bomber had been in the mosque for a while before the arrival of the worshippers.
–
Source: https://www.dailytrust.com.ng/suicide-bomber-kills-own-father-9-others-in-mosque.html