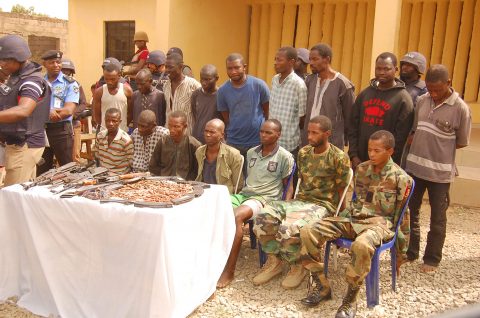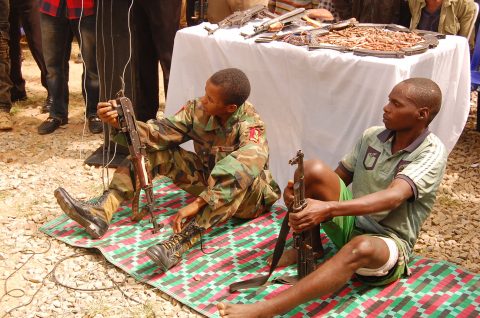 Police Parade 16 Notorious Kidnappers In Niger State
Press Briefing
Parade Of Sixteen (16) Vicious And Notorious Kidnap For Ransom/Armed Robbery Gangs Arrested In The Forests And Towns Along Abuja – Kaduna, And Abuja – Suleja – Minna  Highways By CSP Jimoh Moshood, Force Public Relations Officer  At Sabon Wuse Division, Niger State On 2nd January, 2018.
SUSPECTS
1st GANG (Kidnap for Ransom, Murder and Armed Robbery Gang)
Ibrahim Umar a.k.a ORO 'M' AGED 20YRS (Gang Leader) – Confessed to have killed more than Ten (10) people
     Mohammadu Auta a.k.a BABAWURO 'M' AGED 27YRS – Armourer
iii.            Musa Usman 'M' AGED 25YRS
Abdullahi Abubakar 'M' AGED 28YRS
2nd GANG (Kidnap for Ransom/Rape Gang)
Abdullahi Abdulkarim a.k.a Gebegebe 'M' AGED 26YRS
  Adamu Mohammed 'M' AGED 30YRS
vii.            Yusuf Isah 'M' AGED 30YRS
viii.            Ibrahim Aliyu 'M' AGED 28YRS
      Aliyu Baba 'M' AGED 27YRS
Yunusa Abubakar 'M' AGED 28YRS
3rd GANG (Kidnap for Ransom Gang)
   Yakubu Wakili 'M' AGED 35YRS
xii.            Isiaka Mohammed 'M' AGED 26YRS
xiii.            Hassan Usman 'M' AGED 28YRS
xiv.            Aminu Kabiru 'M' AGED 28YRS
Mubarak Adamu 'M' AGED 25YRS
xvi.            Yusuf Sani 'M' AGED 27YRS
EXHIBITS
Arms and Ammunition
          Five (5) AK47 Riffles
One Thousand Five Hundred and Ninety Eight (1598) 7.62 X 39mm AK47 Ammunitions
III.            Two (2) Sword & Cutlasses
Four (4) Pairs of suspected fake military uniform
Mobile Phones
The implementation of elaborate Security Arrangement directed by Inspector General of Police, IGP Ibrahim K. Idris NPM, mni, for the 2017 Christmas and 2018 New Year festivities has been yielding positive results throughout the country.
The Special Tactical Squad of the Force attached to Operation Absolute Sanity has made yet another remarkable achievements with the arrest of the Sixteen (16) suspects listed above some of whom were arrested in the act of laying ambush to kidnap people returning from Christmas and New Year holidays on Kaduna – Abuja road and Minna – Suleja – Abuja road.
After an intense gun battle that lasted more than Five (5) hours between the F- SARS Special Tactical Squad attached Operation Absolute Sanity and the first kidnap for ransom gang in the hideout of the Kidnappers in the Forest along Kaduna – Abuja highway, the Police team busted the 1st gang and arrested the four (4) suspects including their gang leader who is a trained Armourer and the hit-man of the gang. The gang is the most vicious and notorious syndicate of Kidnap for Ransom gang arrested by the Police in the recent time, the gang leader Ibrahim Umar a.k.a ORO 'M' AGED 20YRS confessed to have killed personally more than Ten (10) people including those that he killed and still collected ransom money from their families. He also confessed to suck the blood of most of the victims after killing them. He was identified by some of the victims rescued from their captivity by the Police in the forest during the gun battle.
The other suspects were apprehended in their various criminal hideouts in the forest and other locations along the Abuja-Suleja-Minna highways for kidnapping, armed robbery, murder and multiple rape cases. All the suspects arrested confessed to their various criminal roles they played in the commission of the crimes. The suspects will be arraigned in Court for prosecution on completion of investigation.
Investigation is being intensified to arrest other members of the gang still at large. While the ongoing operation is being sustained and extended to other flash points across the country, the Inspector General of Police deeply appreciates the cooperation of communities, towns and villages on Kaduna – Abuja, Abuja – Suleja – Minna highways and all other Nigerians for these success stories. He therefore encourages them to continue to support Police personnel deployed in their localities.
–
CSP JIMOH MOSHOOD
Force Public Relations Officers
Force Headquarters