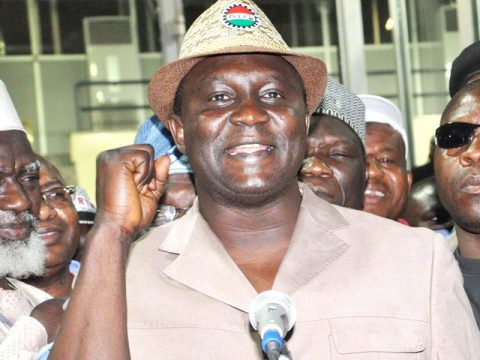 NLC, NUT, Others Defies Threat, Shuts Kaduna Down
Bomba Dauda
The President of the Nigeria Labour Congress, Comrade Ayuba Wabara, calls on Governor Nasiru El-rufai of Kaduna state to rescind on his anti-people policy. He described the move by El-rufai government to sack 30,000 civil servants and 20, 780 teachers in the state as the highest level of cruelty.
Wabara made these assertions during the joint protest organized by the Nigerian Labour Congress (NLC), Nigerian Union of Teachers (NUT), Nigerian Union of Local Government Employees (NULGE), Nigeria Union of Pensioners (NUP) and others in Kaduna.
According to the Head of Industrial relation, NLC, Comrade Emmanuel Ugbaeja, El-rufai has shown the whole world that he is not a respecter of the law. He showed contempt to court order with impunity and threatened to sack teachers after the National Industrial Court in Kaduna granted an interlocutory injunction restraining the governor from disengaging any teacher.
"How can El-rufai criticize the court of competent jurisdiction for granting an interlocutory injunction?" he asked, adding that, "He tongue – lashed the court that it made a mistake by granting a restraining order as if he is a lawyer. After the court in Kaduna granted restraining order and that the status quo be maintained, El-rufai went ahead and started distributing sack letters. Is El-rufai above the law?"
The President of Kano State NULGE, comrade Abdullahi Mohammed, said, all industrial unions in Nigeria are behind Kaduna NUT. "If El-rufai listens that is the end of the protest but, if he refuses the struggle will continue until justice is done. When he was vying for this office, El-rufai promised to create employment and not to purge workers out of office.
"We are calling on President Buhari to note that what El-rufai is doing in Kaduna state is not in accordance to the rule of law or due process and all efforts to make him retract his steps proved abortive."
The protesters held the official flag of the NLC, chanting: "Aluta continua, victory asata" and trekked in phalanxes from the Labour Union Headquarters on Lafiya Road, adjacent to NTA through Muhammadu Buhari way to the main entrance of Sir Kasham Ibrahim House, the seat of power.
The protesters kept chanting "Aluta Continua, victory asata" for about thirty minutes before the Counselor, Information and Communication Strategy, Saidu Adamu, came and addressed the gathering. "I respect your courage," he said, "I will deliver the letter to the governor. And I enjoin you to go in peace in the peaceful manner you came," has said.