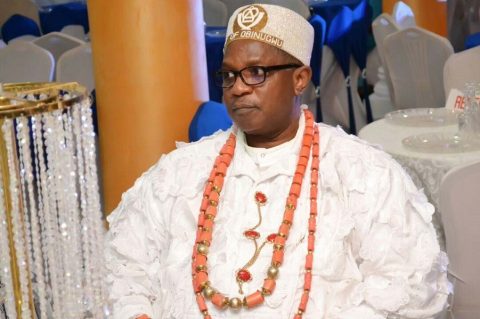 N500m Impersonation Suit: Eze Ilomuanya Vows To Jail Eze Ohiri
More troubles seem to be on the way for embattled Eze Samuel Ohiri of Obi-Orodo Autonomous Community as election for the new  Chairman of Imo State Council of Ndi-Eze draws  nearer.  This is as Chairman of South East Council of Traditional Rulers and erstwhile Chairman of Ndi-Eze in Imo State, HRM Eze (Dr.) Cletus Ilomuanyana, has restated that he will ensure Eze Ohiri goes to prison for impersonating to be Chairman of Ndi-Eze in Imo State.
Already, Eze Ilomuanya, through his counsel, Obiora Obianwu, SAN, is leaving nothing to chance  in hisN500 million suit against Ohiri "for arrogating  to himself the office of the Chairman, Imo State Council of Traditional Rulers". According  to Eze Ilomuanya, all the period Ohiri was  foisted on traditional rulers  in Imo State amounted  to gross illegality and usurpation of my office.  I have several court  judgments to buttress the current Suit How/360/2012  against  Ohiri.  Illegality cannot beget legality"
In the N500 million suit which is still pending  at an Owerri High Court, Eze Ilomuanya is praying the court to "declare that all acts and actions carried out by Ohiri purportedly as Chairman, Imo State Council of Traditional Rulers are null and void and of no effect". He is also seeking  amongst  other reliefs, "an injunction restraining Ohiri from parading  himself  as Chairman of the Council, an order for Ohiri to vacate and surrender all properties of the Council in his possession as well as N500 million as damages".
To prove his determination to jail Ohiri, Eze Ilomuanya is reported to have re-activated the contempt of court proceeding against Ohiri.  In a "Notice of consequence of Disobedience  To Court Order" otherwise known in judicial circles as Form 48, earlier issued to Ohiri and dated September 10, 2013, Ohiri was advised to comply with the  appellate court's judgment of July 5, 2013, which affirmed Eze Ilomuanya as Chairman of Ndi-Eze in Imo State.
The document states "Take notice that unless you obey the directions contained in this order, you will be guilty of contempt of court  will be liable to be committed to prison" Why Eze Ilomuanya chose now to re-commence the contempt of court  proceeding  against Ohiri, according  to analysts, could be attributed to his desire to draw his own pound of flesh against the embattled Eze Ohiri of Obi-Orodo Community. Ohiri was alleged to have done everything possible to  humiliate Eze Ilomuanya when the Obinugwu Monarch's imbroglio with Governor Rochas Okorocha started  in 2011 following  the governor's dissolution of the Imo State Council of Ndi-Eze under  Eze Ilomuanya's Chairmanship.