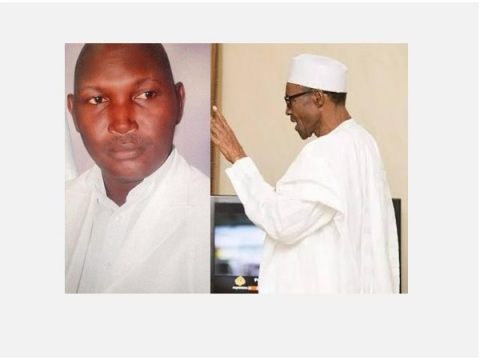 Crisis Hits CAN Over 'Coup' To Remove YOWICAN President For Buhari's Re- Election Bids
 – It will be war at CAN headquarters -says  YOWICAN states  chairmen.
Crisis has engulfed at the Christians Association of Nigeria (CAN) headquarters in Abuja as the 19 northern states chairmen of Youth Wing Christians Association of Nigeria (YOWICAN) had threatened to declared war at the CAN headquarters in an attempt to illegally removed its national president Mr. Daniel David Kadzai, for refusing to endorsed the bids for re- election of President Muhammadu Buhari' s second term.
In a communique issued in Yola yesterday after its emergency meeting and signed by Bro. Musa Usman, YOWICAN chairman Kano state and nine others accused some officials of the parent CAN for trying to use the association to collect money from presidency for the 2019 presidential election to campaign for the re- election of Buhari.
"We are pleading with our CAN Leaders and Nigeria Christian Stakeholders to intervene in yet another thick manipulations at the CAN Headquarters over premature YOWICAN elections to install stooge towards 2019 general elections."
"We,can no longer keep quiet to allow the issues of YOWICAN elections to degenerate into serious anarchy,while the church is facing terrible persecution all over the country,sad still CAN is yet to recover from the crisis over same manipulations during the 2016 CAN elections where Rev'd Dr Jeremiah Gado was forced to institute a court actions over a similar shameful act,"he stated.
The group alleged that some officials have turned the religious association into a political super market ,where they use it to collect money from politicians in order to use the church to scooped votes for their paymasters.
The aggrieved YOWICAN officials pointed out that the illegal election fixed for Saturday this week came hurriedly when the national president of YOWICAN rejected the idea to endorse president Buhari's re- election with a promise of getting ,financial assistance from presidency.
The officials said that CAN leadership which is dominated with southerners are been remote control by the All Progressive Congress ( APC) chieftains from the zone in order to use the religious association for political gains.
He added, " In CAN it seems all positions are made only for the Southern Christians:a) Five (5) National Excos: CAN President- Yoruba,3 Southerners only 1 from the North and 5 National Director, 4 Southerners,1 North. b) Five (5) National Excos:  Women CAN President- Yoruba,3 Southerners and 1 North.c)  Five (5) National Excos: Youth CAN (YOWICAN): Youth President: 1North 4 from the South."
"The gang up is to remove YOWICAN President out office prematurely and technically knocked with a doctored guide  just for 2019," he said.
He maintained that the tenure of the present YOWICAN officials expired November this year and they wondered why election will be conducted 10 months before the expiration time of the officials.
"The current Excos were duly inaugurated on 11th November 2015 and will be due November 2018. The manipulations began when we noticed one of the Directors Hijacking YOWICAN affairs sending messages and calling States Chairmen and also involved in lobbying Blocs for positions," he stated.
He further added,"If they insist,we shall resist their manipulations to destroy the structure of the VOICE of the Christian Youths in Nigeria,we shall fight and resist to every inch with the last pint of our blood. Because,it's clear our enemies succeeded in hiring some charlatans amongst us,"
Our further investigations revealed that a huge sum of N5 billion naira is set aside by a top government political appointee for CAN officials for the endorsement of president Buhari's re-election bid, but Kadzai the national president of YOWICAN rejected what he described at a meeting with some CAN officials as a betrayal of the highest order against the holy body of Christ .
Sensing the danger of losing such huge amount of money , some officials of CAN hurriedly announced for election into the office of YOWICAN president this Saturday to pave way for them to access their N5 Billion naira Buhari endorsement campaign funds.