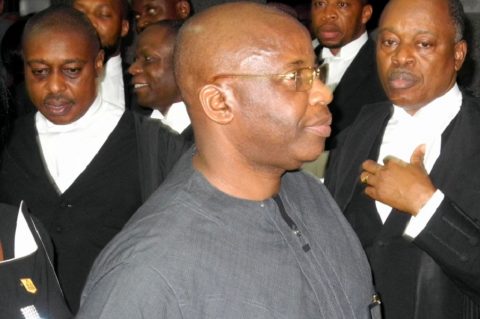 2019: Ohakim Will Be Governor Again – Kinsmen
By Austin Echefu
The kinsmen of former Governor Ikedi Ohakim from Umuoma Umuaro II Autonomous Community in Osu Clan, Isiala Mbano Local Government Area of Imo State, have assured him of returning to the Imo State Government House as second term Governor in 2019.
This was disclosed on Thursday when Dr Ikedi Ohakim paid a new year visit to Barr Martin Iwuegbu at his country home in Umuaro Autonomous Community, with a brief stopover at the country home of Ambassador Eddy Onuoha, former Ambassador to the Republic of Ireland.
While speaking during the visit, Ambassador Onuoha said that they were treated very well while Ohakim was in government as Governor between 2007 and 2011, adding that Imo State fared better under him also.
But while addressing his guests, Barr Iwuegbu described the visit of the former Governor as "The coming together of brothers", noting that "This year is pregnant but whichever way you look at it, it will deliver safely."
Speaking on the current government in the state, he likened it to the situation in Bibilcal Israel when the people requested God to give them a leader.
"God gave Israel Saul as King but that was the beginning of their sorrow. That is what is happening in Imo today", he said.
He expressed joy and gratitude over Ohakim's new year visit, saying that he was also happy that the former Governor had visited him when his father died.
He thanked God for his life, saying that though he was not born with a golden spoon in his mouth, God has been merciful to him and that he is proud of what he has accomplished as Lawyer.
He also said that he grew in the land and as such knows Ohakim very well. He assured that they would work hard to ensure that he returned to the government house as Governor in 2019, adding that "any man whom God has lifted up cannot be brought down by man".
He added: "Many people want to see someone who can be used to stop the incumbent governor and also stop the suffering in the state, and they are looking at you (Ohakim).
"You gave us autonomy but we couldn't do anything for you while you were in government. When the time comes God would make it happen and we will do all we can to make it happen".
He also called the attention of the former Governor to the legal tussle over their ezeship stool, asking him to intervene.
Speaking also, Ikedi Ohakim extolled the virtues of the people, saying that Pay Clan is the beginning of civilization.
He said that Osu Clan comprising Umuaro, used to be bigger than it currently is, noting that it was the slave trade that depleted their population as many of them were taken into slavery.
He also noted that the majority of people in Cuba are from Osu Clan saying that "That is why they do well in boxing and athletics, because they are strong like their kinsmen in Igbo land".
According to the former Governor who said he has a lot of respect and love for his maternal home (Umuaro), the people have produced some of the most brilliant lawyers in the state, even as he said that they have shown him "impeccable and indescribable love".
He also said he had been given a five-star entertainment, even as he promised to wade into the ezeship tussle in the community with the view to bringing the community leaders together and resolve it amicably.