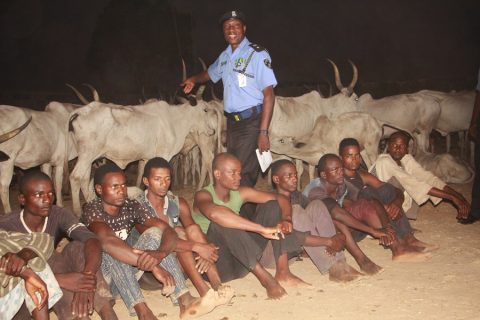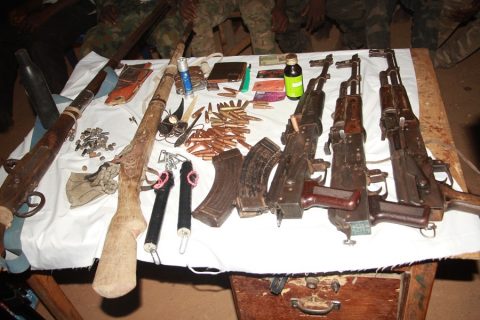 Police Nabs Gang Of 23 Kidnappers Along Kaduna/Abuja Highway
Press Briefing
Parade Of Twenty Three (23) Vicious And Notorious Kidnap For Ransom And Armed Robbery Syndicates, And Cattle Rustling Gang Terorrizing Innocent Nigerians/Villages And Travellers Along Suleja –Bida – Minna – Kaduna Highways By Csp Jimoh Moshood, Force Public Relations Officer  At Lambata, Niger State On 15th December, 2017.
-Recovered from the gangs catches of Arms and Ammunition, Operational Vehicles of the Gang, Seventy Nine (79) Rustled Cattle, Fifteen (15) Sheep  and Five (5) pairs of suspected fake military camouflage uniform.
SUSPECTS
1st Gang – Kidnap for Ransom/Armed Robbery
Bello Garba
Nasiru Mohammed
Saminu Jibrin
Musa Usman
Yazid Umar
Ismailia Haruna  – Armourer
Dahiru Bello – Armourer
Usman Mamuda
Ahmadu Musa
2nd Gang – Armed Robbery/Cattle Rustling Gang
Mohammed Saidu
Yusuf Sani
Usman Wakili
Hussaini Yakubu
Muktar Ayuba
3rd Gang – Kidnap for Ransom/Armed Robbery
Nasiru Bogi
Ibrahim Mohammed
Mamuda Yakubu
Ibrahim Mamuda
Musa Yakubu
4th Gang – Kidnap for Ransom/Armed Robbery
Yahaya Yakubu
Hassau Yakubu
Aliyu Mamuda
Salihu Yakubu
EXHIBITS
          Three (3) AK47 Rifles
Forty Nine (49) Rounds 7.62 X 39mm
iii.            Two Magazines
Two Dane Guns
Curate Chain
          Three (3) wallets
vii.            One Can of Gun Powder
viii.            One Bottle of Codeine
Three (3) ATM Cards
  79 Rustled Cattle
Golf Saloon Car – Operational Vehicle
Sequel to the directive of the Inspector General of Police, IGP Ibrahim K. Idris NPM, mni, to Operation Absolute Sanity to get rid of all forms of kidnapping, armed robbery, cattle rustling and other violent crimes on Abuja – Kaduna, Abuja – Suleja/Minna highways and other major highways across the country; the IGP Special Tactical Squad (STS) attached to Operation Absolute Sanity from 7th December, 2017 to 15th December, 2017 working on actionable intelligence and other information provided by victims embarked on massive raids and swooped on hideouts, kidnappers camps where five (5)  victims (names withheld) were rescued and the suspects mentioned above arrested after exchanged of gun fire that lasted several hours. Two of the suspects Ismailia Haruna and Dahiru Bello who are the Armourers of the gangs were also arrested.
All the suspects have confessed to the various criminal roles they played in the commission of several kidnap for ransom, armed robbery and cattle rustling crimes. Most of the suspects were identified by their victims, some of whom are present here today. They will all be arraigned in court on completion of investigation.
–
CSP JIMOH MOSHOOD
Force Public Relations Officers
Force Headquarters