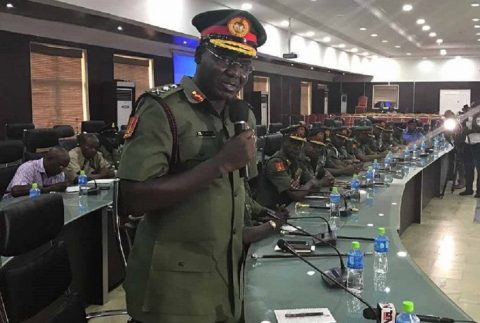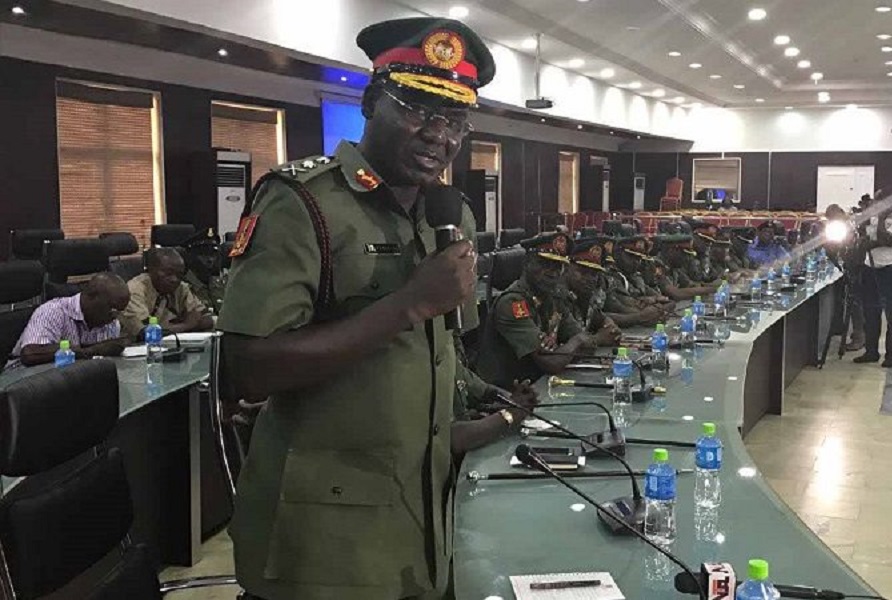 Buratai: That PMB's  "wiz-man"  On Counter Insurgency – By Israel Abiodun
President Muhammadu  Buhari knows the appealing burden of leadership. Anywhere a leader finds him, there are huge responsibilities and enormous expectations, no matter how infinitesimal the position entrusted to him.
Buhari knows a leader who sets his eyes on honest and dedicated leadership finds the burden of leading less cumbersome. Such leaders take the right decisions; opt for the right choices and do not falter before the antics of detractors.
On the flipside, a leader with a crooked mindset finds it extremely difficult to positively navigate the open and subterranean paths of leadership. But a leader who abhors irrationality and insists on what is right is often mistaken for a dictator. But he is least perturbed, and makes light of seemingly serious issues before his lieutenants and people because he is sure of progressive outcomes.
Last week, President Buhari was in Kano for a two-day official visit to this ancient city of Northern civilization. He was puzzled by the rousing welcome accorded him by both the small and the mighty. He was particularly enthralled by the spontaneous excitement of the masses or the Talakawas. It again gleefully reminded him of his touted cultic followership by the downtrodden which had always been the greatest envy of his political rivals.
But any onlooker would easily observe that the affection on President Buhari had roots spanning his years of enduring public life. The President has strived all his life to exude integrity, honesty and transparency in both private and public life. The many times he has been tested in public leadership, Buhari had proved himself a worthy leader. And it is in this ancient city of Kano that the Talakawas foisted on him the enviable sobriquet of "Mai Geskiya," (meaning a man of honesty or truthfulness). For him, it was a visit to his ancestral roots.
Therefore, the masses charmingly demonstrated President Buhari's more than two years civilian leadership of Nigeria has extricated them from many afflictions. They have tested development and employment/empowerment. And topmost of all, the people have been freed from the scourge and menace of rampaging Boko Haram terrorists which held the ancient city of Kano captive, like Borno and the rest. The public elation was fired from this angle and President Buhari got the inkling for the wild excitement.
He therefore, teased the people with a parody, declaring quite euphemistically that his APC- led government of Nigeria's had three cardinal areas it covenanted with Nigerians to accord first premium and priority. He recounted these three most debilitating afflictions of the country as battling insecurity, reviving an economy in recession and tackling the monster of corruption.
No doubt, President Buhari is tackling all these national ailments simultaneously and impressively. But he teased that insecurity has been the most easiest to handle among the trio, than reviving the economy and battling corruption.
President Buhari felt comfortable and indeed confident about tackling the widespread and threatening insecurity across Nigeria because he appointed a workable team to lead the Nigerian military.  The President from the outset believed he had to obey his conscience by appointing crack team of officers to preside over the bile insurrections, manifest in local armed conflicts   and the almost insurmountable Boko Haram insurgency, which had arrogantly,  in violent raids, seized swathes of territories of Nigeria's sovereignty.
There is no intention to berate anybody or impugn the leadership character of any former leader of Nigeria. But the unalterable truth remains that if Nigerians assumed former President Goodluck Jonathan (GEJ) failed on any aspect of leadership of the country, it was more visible in his helplessness to curb the rising spate of insecurity across the country.
It heightened to extents GEJ declared state of emergency in certain LGAs, but it never worked. Some foreign embassies consistently issued travel advisories or bans to their nationals wishing to journey to Nigeria because of the superfluous insecurity threats everywhere, including major cities like FCT, Abuja.
Unfortunately, the Jonathan government had a military team,  which at least in public estimation were epicureans, who demonstrated a confounding indifference to their assignments. So, terrorists and other lethal sects feasted freely on Nigeria. Service Chiefs remained in their comfort zones in Abuja or elsewhere, and released troops to the warfront they hardly supervised personally, obviously because they dreaded possible attacks by insurgents.  They had a penchant for issuing cold and lifeless directives to commanders and troops without checking the level of compliance.
President Buhari, a retired senior military officer himself, painstakingly scanned these lacunas in the counter-terrorism war and opted for a yawning and remarkable difference in his choice of Service Chiefs. He never allowed himself to be influenced by lobbyists.  President Buhari went for the beast brains in the military, who had in their kitty track records of excellence and accomplishments on previous assignments.
And putting together the right team, President Buhari had his intentions on security of lives and property of Nigerians protected. Likewise, the securing and defending of the territorial integrity and sovereignty of Nigeria got working perfectly and excellently to set timelines and targets.
Therefore, when President Buhari proclaimed in Kano that among the three focal malaises of Nigeria he elected to instantly remedy, security had been the easiest, the Commander-in-Chief of the Armed Forces of Nigeria was tacitly revealing to Nigerians the reward of getting the right team and competent hands to superintend on assignments. This strategy is a tool that works for leaders' everywhere.
A peep into President Buhari's security architecture or Nigeria's current security defence team reveals the Chief of Defence Staff (CDS) Gen. Gabriel Olonishakin and the Chief of Army Staff (COAS)  Lt. Gen.  Tukur Yusufu  Buratai in seamless copulation in initiatives and strategies  for the counter-insurgency operations.
Precisely and most outstandingly, Gen. Buratai,  the helmsman of the counter-terrorism campaigns in Nigeria, can only be  likened  to the world's  youngest art award winner, "Wizkid" in terms of innovation, courage and charisma to truly appreciate his enormous roles and the corresponding successes that have come in recent times. In him the troops see the perfect definition of a servant-leader, kind and generous to a fault and a man who would prefer to sacrifice his personal comfort for others for the job to be done.
In strategies, tactics and field engagements with Nigerian troops, Gen. Buratai has personified excellence and a numbing competence, which has led to the decimation and eventual defeat of  Boko Haram terrorists.  He has continually  maintained  an excellent tradition of meeting timelines, punches on target and above all concerned about reforms that will enthrone the Nigerian Army as one of the best in the world. General Buratai sees a greater and more united  Nigeria beyond Boko Haram and to this end made conscious efforts to ensure the Army leaves every area of Operation better than they have met the place.
It is needless to re-echo that President Buhari's security "Team Right," syndrome has packaged military officers who  knows exactly when to advance attacks and when to retreat; it knows how to assail enemy camps and have arrests of terrorists' and the surrender of top Boko Haram commanders.  It has underlined welfare of troops on its list of first obligations.
The Security "Team Right" knew when to chase agents and sympathizers of terrorists who have constituted themselves into cogs in the wheel of progress. Or when these terror surrogates graduated the war of terror on Nigerians from the battlefield into cyberspace terrorism and contained it effectively.
These exploits spearheaded by Gen. Buratai as the ombudsman of the counter-insurgency operations have left a positive impression on the psyche of the world. It has thus, compelled a bewildered humanity into the endorsement of President Buhari  as a leader who sticks to his words and promises. It is evident in the defeat of terrorism and sister devious terror sects in the country.
And strikingly, the COAS has not relented in spite of the gains registered in the terrorism war, and vows to sustain the tempo until the final whistle is blown. No day ever passes without Gen. Buratai redoubling efforts and inventing something new in the anti-insurgency battles. Just yesterday, the first set of graduates from the Army War College has their graduation ceremony, expectedly too is the commmecement of work at the Nigerian Army University of Technology, Biu. These are intended   to completely free Nigeria from the claws of terrorists in order to make Mr. President to sparkle more and more in all his undertakings in the dogged determination to salvage Nigeria.
Therefore,  the road is rough and the odds staked against the peace and  progress  of Nigeria are certainly tough; but President Buhari need  not lose hope;  but be confident that much can still be achieved on the economy and the war against corruption, like on security,  with his ongoing  laudable and impactful  initiatives.  He has no cause to tremble as Nigerians are firmly in his support for a better and greater nation.
–
Abiodun is a civil rights advocate and contributed this piece from Ibadan.