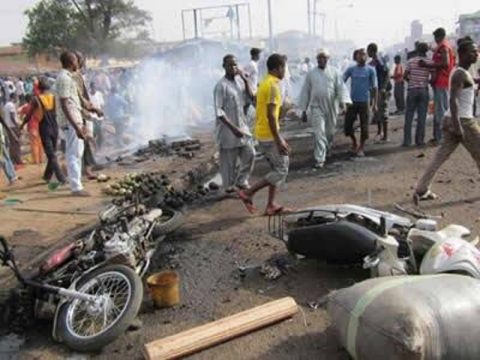 "Arrest Fulani Herdsmen Attacks Now" – Southern Kaduna Peoples' Union
–
The Southern Kaduna Peoples' Union
Press Statement
24/12/2017
With the yuletide season upon us, the Southern Kaduna Peoples' Union (SOKAPU) wishes to join brothers and sisters of goodwill all over the World in heartily rejoicing with the people of Southern Kaduna and the entire state on this year's Christmas celebration. Despite the challenges we have had to endure through the year, the fact that we are privileged to witness this year's Christmas celebration speaks volumes about our resilience as a people.
However, sobering to us are the unfortunate ones that we painfully lost needlessly. That's why we are constrained today to urge the Government and security agencies to prioritized the availability of a secure environment for its people and avoid the practice of reacting through stale pres statements when lives had already been lost and properties destroyed.
Unfortunately for us as a people, we have once again come under unprovoked and gruesome attack two days before Christmas. We refer to the sad attack that took place on Friday, 22 December 2017 at around 10 pm in Nimdem Village, Kaninkon chiefdom in Jema'a Local Government. Four people were killed, 10 injured and currently receiving medical attention in Godogodo, while the seriously injured have been taken to the Throneroom hospital in Kafanchan and others now in JUTH Jos. This has left us wondering why people who had gathered peacefully for a joyful Christmas carols in their village should be gunned down for no reasons.
The Goska attack on the 24th of December, 2016 under the nose of the security agencies within a 24-hour curfew still resonates in its sheer avoidability and that of Nimdem evokes painful memory of the pains our people have had to bear.
Our call for proactive measures is also coming against the backdrop of the wanton carnage that went on and is still going on in Chikun Local Government. This has lasted for months before security was decidedly moved into the area. Currently, 16 communities have been displaced as a result of increased killings from herdsmen, Kidnappers, cattle rustlers and Armed Robbers and the people have not only been displaced but are now taking refuge in different villages around Kankomi, Udawa, Damba and Kasaya villages. Unfortunately, daily attacks and kidnappings still continue in several villages in that axis and the hinterlands.
SOKAPU commends the security efforts made so far in curtailing these killings but regrets to note that these are all avoidable incidents that could have been averted with a sincere, robust and determined will from those constitutionally empowered to protect and defend our hapless and law-abiding people.
We call on the security agencies to arrest the terrorists, reveal their identities and dully arraign them before the law. We also call on the government to visit the affected communities, the injured, the bereaved and to take care of the bills of the injured. The security agencies should not be satisfied with reactive but proactive measures
 Consequently, we fervently urge our people to remain highly security conscious as they celebrate this festive season and immediately report suspicious activities and individuals in whatever guise to the appropriate authority.
SOKAPU urges all to continue to work for the peace of Southern Kaduna, Kaduna State and the country at large and keep strengthening the decade-old ideals of harmonious coexistence with everybody that we are known for.
While further wishing the people of Kaduna state merry Christmas and a prosperous new year, SOKAPU condoles with those that have been injured in the latest attack and prays for the peaceful repose of the souls of those that were killed.
Thank You.
Signed: Mr. Yakubu Kuzamani, National Public Relation Officer, SOKAPU