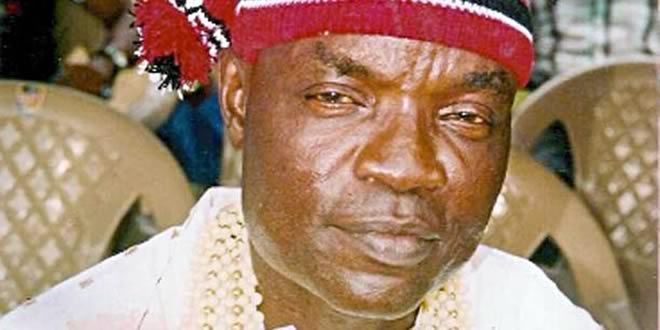 "Ogirishi Powers Stopped APC Rigging In Anambra"
The just concluded gubernatorial election in Anambra State where the All Progressive Grand Alliance candidate won the election in an unprecedented landslide victory may have come as a result of a well executed campaign by the Obiano campaign team. But information made available to 247ureports.com through Ogirishi Igbo indicates that the resounding victory may have had a spiritual aspect.
Rommy Ezeonwuka told 247ureports.com that the spiritual powers inherent in the title of Ogirishi Igbo was responsible for the clearing of the way for victory for the APGA.
Prior to the election day, the Ogirishi of Igbo had issued a stern warning aginst potential riggers to deceit from contemplating rigging the Anambra election. In his words,  "I am the Ogirisi of Igbo land, in other words the spiritual leader of Ndigbo, Ogirisi means the spiritual force that protects people against injustice and oppression, come November 18 I will unleash the powers of Ogirisi on anybody or group of people who engage in attempt to rig the election against the candidate of APGA and the incumbent governor, Chief Willie Obiano".
The Ogirisi revealed that the PDP was paralyzed owing from an earlier curse placed on the party for the evils perpetrated on the people of Anambra State. Ezeonwuka made bold that the powers of the Ogirisi was responsible for destabilizing the PDP.
"One of the powers that dealt with opponents on this election is Ogirisi power, first he cursed PDP – which made them scattered – then he placed spiritual Ogirisi course on intended election riggers. It was Ogirisi course that hooked opponents. Their intention was to rig Anambra election to APC" stated Ezeonwuka who continued to add that "people should know that Ogirisi in Igbo custom topology has supernatural power".
The APC campaign led by the Bauchi State governor, Barrister Abubakar had intended on massively rigging the election in favor of the APC candidate, Tony Nwoye. According to available information, the APC had succeeded in compromising the INEC and the Police. But the rigging never materialized.
Rommy Ezeonwuka was crowned Ogirisi Igbo by Eze Nri.