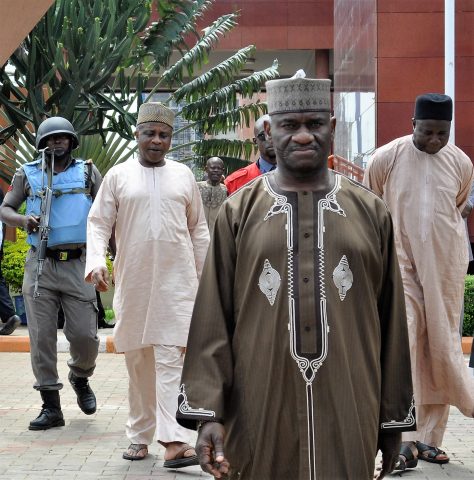 Court Adjourns Ex-Naval Boss, Jibrin's Trial to

Dec 8
Justice A. S. Umar of the Federal Capital Territory, FCT, High Court sitting in Maitama has fixed December 8 and 9, 2017for further hearing in a case of N600million fraud involving a former Chief of Naval Staff, Vice Admiral Usman Jibrin.
Jibrin is facing trial alongside Rear Admiral Bala Mshelia, Rear Admiral Shehu Ahmadu (all retired) and Habor Bay International Limited on a 4-count charge of criminal conspiracy preferred against them by the Economic and Financial Crimes Commission, EFCC.
The Naval Chief whilst in office allegedly bought a house worth N600million from the account of Naval Engineering Services without budgetary provision.
It was also alleged that, the documentation for transfer of ownership of the property was done such that a private company owned by the family of the first defendant (Vice Admiral Jibrin) became the buyer.
The offence contravenes Section 26 (1) (b) and punishable under Section 22 (4) of the Corrupt Practices and Other Related Offence Act 2000.
At the hearing of the case today, Jibrin's counsel, Y. C. Maikyau, SAN, told the court that the EFCC did not serve him with the summary of the statement of the subpoenaed witness, Abdulkadir Idris Wakili, a representative from Budget Office, who is to testify as the 4th prosecution witness.
"In the subpoena tendered to us, it was not mentioned what the witness is coming to say. We have not been given the opportunity to prepare our questions for cross-examination", Maikyau said.
Other counsels in the defence also aligned themselves with the submission of the learned silk.
After listening to the counsel, Justice Umar ordered the prosecution to furnish the defence with all the materials required for the trial.