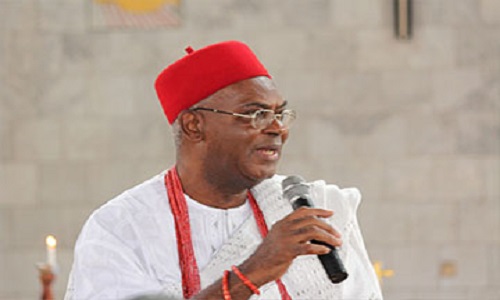 Obi of Onitsha, Igwe Alfred Nnaemeka Achebe has reaffirmed his support for Governor Willie Obiano's second term election due to zoning arrangement existing in the state.
Loading ...
Igwe Achebe while speaking at the weekend during his 16th Ofala festival said that traditional rulers council in the state have collected endorsed governor Obiano for a second term in office noting.
He said that the traditional rulers support was inline with the zoning formula among the three Senatorial zones of the state while stipulated that very zone would go for eight years tenure which the Anambra Central had taken their turn then Anambra North Senatorial zone where governor Obiano hailed from is completing his four years to go for second term, making it eight years for the zone.
The Monarch who applauded all the political parties in the November 18 governorship poll in the state for choosing  their candidate from Anambra North Senatorial zone in obedience to the zoning formula adding that the arrangement would being political stability and peace in the state.
Igwe Achebe who is the Chairman of the Anambra state traditional rulers council commended governor Obiano on the N20 million community project programme as well as other developmental programmes of the state government, regretted the growing incidences of motorcycle robbery cases  in the commercial city and appealed to security agencies to rise up to the occasion and quell it.
He however thanked the natives for their patriotic spirit to develop the town and unfolded a lot of developmental initiatives like Onitsha library and measures for ancient artifacts as well as other youths welfare and empowerment programme initiated since he became the traditional ruler of the town.
In his remarks, Governor Obiano  poured encomiums on Igwe Achebe on his positive purposeful leadership and for being a good ambassador of the state wherever he goes, noting that traditional ruler has helped to project the custom of Onitsha as well as the Igbo and the state to the international community.
While pledging to help develop Onitsha library and other developmental projects in the city, he assured that his administration will give the development of culture and tourism a top  priority in his second term in office even as he called people to vote for him for a second term as he is the only candidate that will stay for four years noting that others if elected will like to do eight years, thereby disrupting the zoning arrangement.