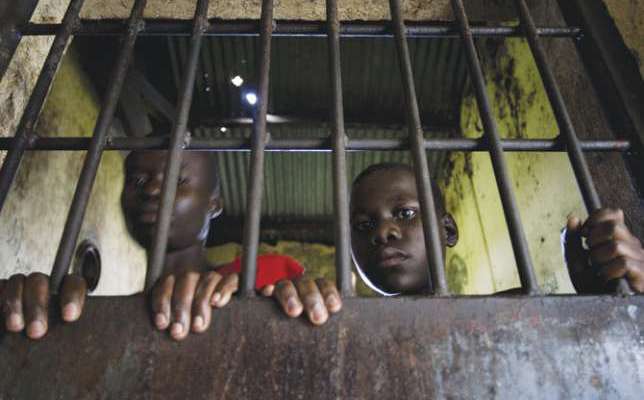 Information reaching 247ureports.com revealed that officials of the Aba federal Prisons, Abia State, on Friday, rejected six under age suspected members of the Indigenous People of Biafra (IPOB) who were ordered to be remanded in the facility by the presiding magistrate, Ogbonna Adiele, of Aba North Magistrate Court II.
Prison sources told 247ureports.com that the suspects; Chidiebube Ngozi, 15; Ebuka Sampson, 15; Isaiah Bassey , 15; David Okoro, 15; Ubabuko Tochukwu,15; Oluebube Okeke,15, were under age and ineligible to be admitted to prison.It was gathered that 18 years is the minimum age for an inmate to be committed to prison.
Loading ...
The prison officials were said to have accepted three suspects; Ifeanyi Amobi, 18; Emmanuel John, 21; Chibuike Ugbor, 32 and Emmanuel Okon, 18, leaving the police team to return the underage to police custody contrary to the order of the order of the court.
During their appearance in court, lawyer to the underage suspects, Charles Onuchukwu was said to have reminded the court that the law does not permit the accused person to be remanded in prison due to their age and pleaded for the case to be struck out. He prayed the court to remand the underage at the Remand Home, Aba.
But the magistrate insisted that he lacks the jurisdiction to hear the offence of murder and arson preferred against the accused and ordered them to be remanded in prison custody.
Meanwhile, condemnations have greeted the indiscriminate arrest and trial of persons suspected to be members of IPOB in Abia State.
Residents of the state have accused the Police and other security agencies of arbitrary arrest of persons who will be detained and later arraigned as members of IPOB behind the burning of Ariaria police station and urged Governor Okezie Ikpeazu to check the trend.
Many of the suspects will stay longer in prison as the magistrate court lacks jurisdiction to try murder and terrorism cases. The prisons in the state which were already over crowded above their capacities , are now over flowing with IPOB suspects.
247ureports.com gathered that over 60 suspects are languishing at the Afara Prison, Umuahia while Aba has 24 at the city's prison, excluding the 6 underage in police custody. It was gathered that over 50 persons are still in police detention waiting to be arraigned