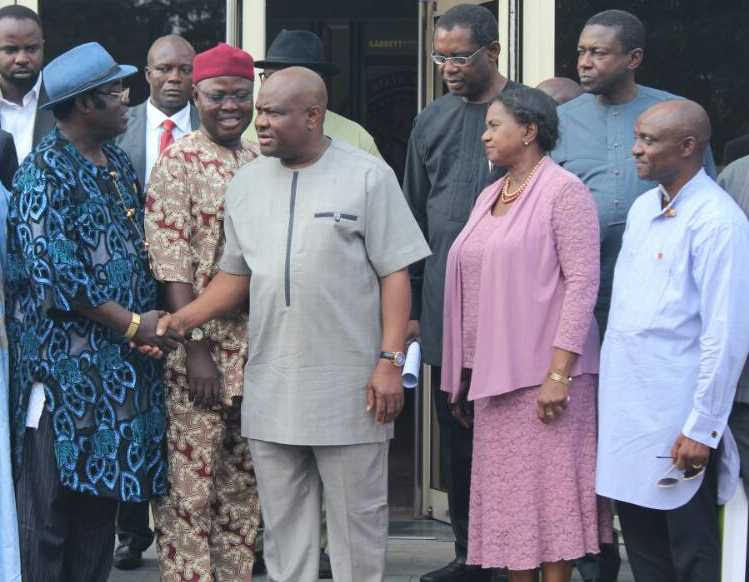 PRESS RELEASE
Loading ...

 
The Rivers State Chapter of the All Progressives Congress (APC) has asked Governor Nyesom Ezebunwo Wike to publicly apologise to the people of the State and his immediate past predecessor and benefactor, Rt. Hon. Chibuike Rotimi Amaechi, over the ceding of Soku Oil Wells belonging to the State to neighbouring Bayelsa State by the administration of former president, Dr Goodluck Jonathan. This follows Wike's acceptance that the disputed Soku Oil Wells which he and Dr Jonathan connived to cede to Bayelsa belonged to Rivers.

 

19th September, 2017 will ever remain memorable in the politics of Rivers State. This was the day that one of the hidden truths was brought to the open. By his confession, Governor Wike has vindicated our claim that he collaborated with Dr Jonathan to fight Rt.  Hon. Chibuike Rotimi Amaechi to a standstill and dislodged APC that clearly won the 2015 general elections, from the Brick House, Port Harcourt. One of the ways in which they achieve this infamous feat was to cede our oil wells in a bid to economically emasculate Rivers State and starve Amaechi of funds," Rivers APC said in a statement signed by the State Chairman, Chief (Dr.) Davies Ibiamu Ikanya.

 

It may interest all that on this fateful day of 19th September, 2017 Governor Nyesom Wike of Rivers State while addressing the Surveyor-General of the Federation, Mr. Ebisintei Awudu stated, "I call on the Surveyor-General of the Federation to help in resolving the dispute between Rivers State and Bayelsa State. We believe that the oil wells belong to us. We are brothers and there is no need for this conflict to linger. Imagine if it was between two states with no relationship, it would have been worse". The Governor pointed to the deadly boundary conflict between Kogi and Anambra over oil found in the area to affirm his latest stand.

 

Wike's latest stand on this controversial issue is a reflection of a misguided leader who likes to play politics with every issue so far it will benefit him not minding if such a stand is against the progress of Rivers State and her people.

 

It is on record that Governor Nyesom Wike used this particular issue about three years ago to dehumanise and abuse his predecessor and benefactor, Rt. Hon. Chibuike Rotimi Amaechi and called him several uncouth names for pleading and stating that it was wicked of Dr Goodluck Jonathan  then President of Nigeria to cede oil wells to Abia and Bayelsa States just to prove his disdainful and hatred for the people of Rivers State after given him one of their daughters (Dame Patience Jonathan) for a wife and ensured that he was properly educated.

 

Because of Amaechi's stand, Wike as the then Supervising Minister of Education threatened him with everything within him including brimstone and arrest immediately after Dr. Goodluck Jonathan will be declared as president for a second term in 2015. According to him, "Once the Independent National Electoral Commission announces the victory of President Jonathan, we will immediately shut down the Port Harcourt International Airport and all land and sea borders in Rivers State to prevent Governor Amaechi from escaping". But God proved him wrong and will further proved him wrong when he continue to confess all that he has committed against a man who saw him through to what he is by today. The party emphasised.

 

Sadly, Goodluck Jonathan as President at this period and without EXCO authorisation, ceded a part of Rivers State, Soku, to his home state of Bayelsa and Wike to exhibit his poor understanding of the plight of Rivers State and her people appreciated Dr Jonathan for this heinous and evil act by given him an award during the Rivers State's 50 years celebration as a State abnd according to Wike, the  award as a result of, "For Jonathan's contribution towards the growth and development of Rivers State". If Wike is serious in demanding for the receding of these oil wells back to Rivers State, let him, Wike start this by withdrawing the unsolicited and unmerited award given to Dr Jonathan after which, he should formally apologise to God, Amaechi and the people of Rivers State for criminally emasculating them economically by this evil act against the State and humanity for us to take him serious.

 

The need of Nyesom Wike to apologise to the people of Rivers State stems from the fact that it was thesame Wike while as Minister of Education that sent his political group, Grassroot Development Initiative, (GDI) to harass and disperse the leaders and Traditional Rulers of the kalabari Kingdom under the auspicious of Kalabari National Forum in their protest march to submit their letter to the Director General, National Boundary Commission, Abuja against this inhumanity act on 29th October, 2012  titled, "PROTEST AGAINST MALICIOUS AND UNCONSTITUTIONAL INTENT TO BALKANIZE AND EXCISE OIL PRODUCING COMMUNITIES IN KALABARI KINGDOM OF RIVERS STATE AND ANNEXING SAME TO BE PART OF BAYELSA STATE and signed by both His Royal Majesty, KING (PROF)J. T. J. PRINCEWILL, AMACHREE XI,AMAYANABO OF KALABARI, HRH KING DISRAEL GBOBO BOBMANUEL (2) OWUKORI (1X) and all the other Traditional Rulers from the Kalabari Kingdom.

 

In this historical letter which Wike and Jonathan ensured that it did not see the light of the day, the Kalabari Kingdom stated, "…We want to conclude by informing Your Excellency, without any iota of doubt, that we had made great sacrifices in the past to enthrone the peace currently enjoyed by both States in the region. Our patience with and loyalty to the Federal Republic of Nigeria must be protected and seen to be so. We therefore UNEQUIVOCALLY, demand that whatever Administrative maps that has been issued that does not reflect the 10th Edition of the administrative map of Nigeria as it affects us, be withdrawn forthwith and status quo maintained as our known historical boundary with the Nembe Kingdom in Bayelsa State is the SANTA BARBARA RIVER.

 

The pleas to Dr Jonathan by the Kalabarai Kingdom, "Your Excellency is therefore requested to use Your Excellency's good offices to advise the parties in the Supreme Court case and the relevant government agencies to await the production of the 12th edition as pronounced by the Supreme Court before taking any further steps, in the interest of peace, equity, fairness and justice all fall to the deaf ears of Mr. President.

 

It is for this heinous act and evil against Rivers State and her people that we urge Wike to formally apologise to Rivers State and her people.

 

Finally, we urge the Surveyor-General of the Federation, (SGF) to assist and restore back the Soku Oils Wells back to Rivers State not minding that Wike was one of the architects and brains behind this unfortunate misfortune brought on us as a State.

 

ENDS

 

Long Live APC!

 

Long Live Rivers State!!

 

Long Live Federal Republic of Nigeria

 

Long Live President Muhammadu Buhari

 

Chief Eze Chukwuemeka Eze,

SSA Media and Public Affairs to the State Chairman, APC Rivers State.