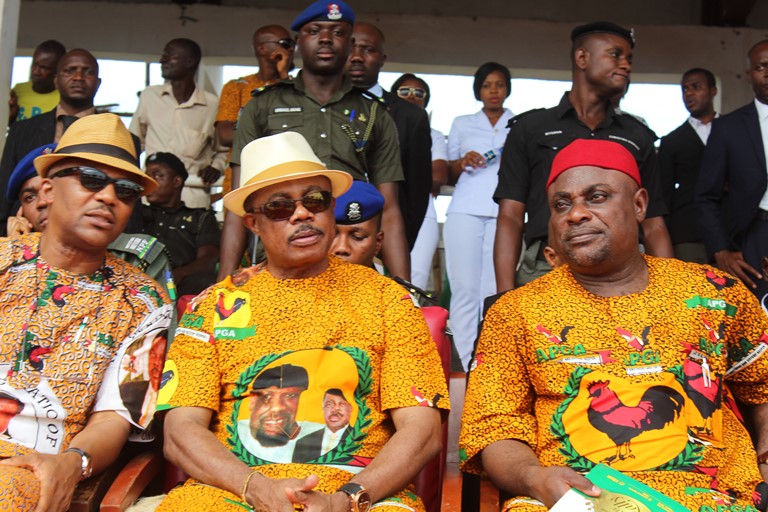 …Teams -up against Obaze
Following the fall out of the People's Democratic Party (PDP) primary election where Oseleka Obaze allegedly emerged in a fraudulent means, the aggrieved aspirants and members at the primary election may have decided to work for Governor Willie Obiano in November 18 governorship election in the state against their own party candidate to express their anger.
247ureports gathered that the aspirants who were said to be embittered by the way and manner Mr. Peter Obi allegedly manipulated the delegate lists to favour his choice candidate Mr. Obaze, have been meeting in Abuja since after the primary election to work against Obaze by throwing their support for Governor Obiano reelection.
A source in one of their meetings who doesn't want to be mentioned told our reporter that despite the fact that the underground reconciliation move was made by Obi where most of the aspirants agreed to have accepted the candidature of Obaze but had vowed to secretly work against the PDP as a revenge.
According to the source, "I was in one of the meetings where the aspirants converged on Abuja residence of one of them to discus the way forward. They decided to support governor Obiano after looking at other options. They vowed to work against their party PDP to pay back Obi and Obaze in their own coin. They have decided to support Obiano secretly because of anti-party offense".
"Obi and Obaze have been sending mediators to plead and calm the aspirants down but to no avail. Though some aspirants agreed to support Obaze in the open but have decided to work against him secretly. I was learnt that Obiano is seriously reaching out to the aspirants to woo them to his side while Obi also keep on calling and sending people to go and beg them to work for Obaze".
"As it stands now, it seems that every thing have been settled about the outcome of the primary election in PDP but some people have bent to destabilize the party in the state to favour APGA. Many PDP members are also against the emergency of Obaze and currently working against him secretly. They said that they will remain in the party to work against the candidate of the party in order to show their grievances" the source stated.
It was further gathered that the crisis in PDP and APC is giving Obiano an edge over other candidates in November 18governorship election as more people from different party affiliations were coming together to support his second term bid in order to regain power after him 2022.