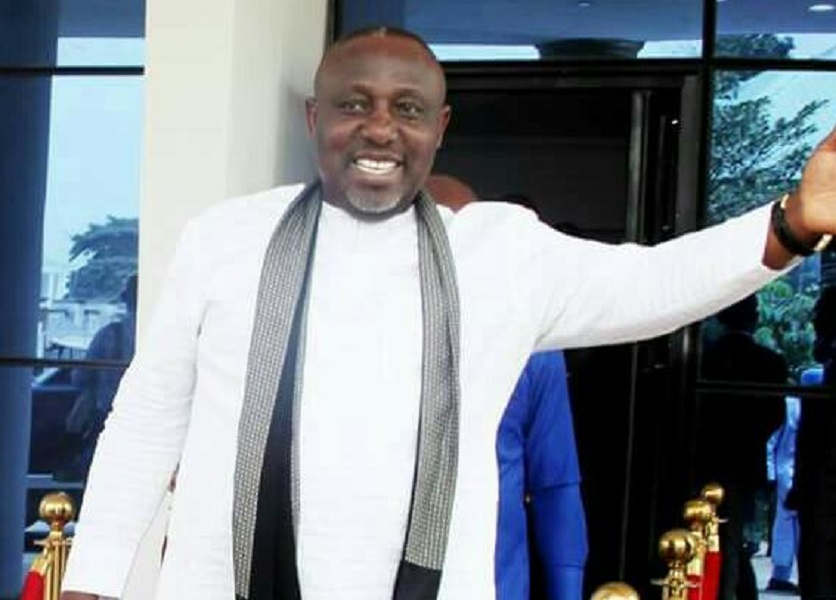 Loading ...
Do you still wonder why Mr Femi Fani-Kayode has dedicated most part of the last few days attempting some puerile snide on the personality of His Excellency, Owelle Rochas Okorocha? It is not one of those demon inspired excesses of the serially corrupt, serially investigated and chronically bitter former Minister of Aviation. Femi Fani-Kayode who has been rumoured to be one of those interested in vying for the chairmanship position of the beleaguered Peoples Democratic Party (PDP) is using the attacks on the Imo State Governor as a Launchpad for his PDP chairmanship aspiration. He feels, rightly or wrongly, that convincing his Party members that he can attack Okorocha is enough reason to get the support of at least, majority of his Party members, as it is a consensus, not just among the PDP bigwigs but also within the entire opposition setup, that Okorocha is the biggest headache they may have to contend with in their laughable bid to take over power come 2019.
The Peoples Democratic Party hierarchy see Okorocha as the brightest light of the ruling All Progressives Congress (APC). This is not to say that the Imo governor is more influential than his colleague governors in the ruling Party, nor is he sparring for influence with President Muhammadu Buhari, who is also the national leader of the Party and the President of all Nigerians. The Imo Governor, who is also the chairman of the Progressive Governors' Forum is one of such politicians whose charisma could be said to be natural and contagious. He has an air around him that intimidates those who attempt to rival him and inspire those who wish to follow him.
Lucille Kallen must have Rochas Okorocha in mind when he said; "There are some men who possess a quality which goes beyond romantic or even sexual appeal, a quality which literally enslaves. It has very little to do with looks and nothing at all to do with youth, because there are some quite mature and unathletic specimens who have it. It's an expression in the eyes, an aura of being in control, and responsible, or something easy and powerful in the stance, or who knows." Governor Okorocha is one of the most inspirational leaders to have come out of Africa, not just because of his power of oratory- which on its own is a result of a burning passion to serve and make a difference than a pull to entertain his audience- but because of a long history of service to mankind and his bond with the poorest of the poor.
If there was any doubt about the aim of Femi Fani-Kayode's puerile snide on the governor, his most recent tweet on the matter laid that to rest. "LEAVE POLITICS". The PDP national chairmanship hopeful understands that with great achievers like Governor Rochas Okorocha still holding sway in the Nigerian political environment, people like him and his Party, the PDP have very slim chance of being relevant, politically. Femi Fani-Kayode is understandably desperate to see if he could reduce the influence of the governor before Nigerians. Someone actually pointed out that considering the tone of Fani-Kayode's tweets and press statements against the governor, if he has his way, he would have him assassinated.
The man who is still under investigation for allegedly stealing billions of Naira belonging to Nigerian people also proved that the name Owelle Dr. Rochas Anayo Okorocha tortures him both emotionally and mentally by resorting to some of the most puerile innuendos in his unwarranted and obviously futile media attacks on the governor. It is possible that Femi Fani-Kayode has soiled his hands in a lot of Satanic rituals, yet, has failed to match up to even some of the lowliest aides of Governor Okorocha by any means, hence, his belief that the governor's height could only have been attained by some mysterious means. Certainly, Governor Okorocha's secrets to the height he is presently is not a mystery and like I pointed out in an earlier article on this topic; Femi Fani-Kayode will be doing himself a world of good, if he takes his time to study the highly inspirational story behind the Imo Governor's present status in Nigeria, as this knowledge can exorcise him of the many harmful demons that have continued to make his life, a hell on earth.
That a man who boasts of having attended Cambridge University could bring himself so low with lousy superstitions is embarrassing but not surprising. It is embarrassing that he was able to deceive that great ivy league to award him their certificate without testing his mental state but not surprising because been certificated is different from been educated. Femi Fani-Kayode has shown through his choice of words and baseless arguments that he might have the certificate of Cambridge University, but he did not get a Cambridge education. Femi Fani-Kayode and his slave masters in the PDP should see Okorocha's left leg as a sign of hard work, discipline, diligence, and that never-say-die spirit that propelled the chairman of the Progressive Governors' Forum, to the height he is in today. Unlike many Nigerian politicians whose source of wealth cannot be traced, Okorocha worked hard to build his wealth before joining politics and it is on one of his several road travels building his several business interests that he was involved in a ghastly accident that nearly took his life. It is only to God's glory that Owelle survived that accident.
Femi Fani-Kayode should have sneaked into Owerri or any of the emerging cities in Imo State before penning that embarrassing treatise where he tried to question the gloriousness of Imo State. I am sure that as a Minister under President Olusegun Obasanjo and a spokesman of the President Goodluck Jonathan campaign, Femi must have had cause to visit Imo State during the inglorious reign of his Party, the PDP. Owelle Rochas Okorocha has successfully upgraded Imo State from a near failed State to one of the most developed States in today's Nigeria, while the people of Imo State are among the happiest citizens in Nigeria, as they have experienced humane and responsible governance for six consecutive years.
With Governor Okorocha's achievements outside politics and within the time he has held sway as the governor of Imo State, he has set a standard of governance that will be very difficult to be met by anyone with the political orientation of Femi Fani-Kayode who sees politics and public office as avenues for self-enrichment and clique protection. This is not far from why Femi was commissioned by some of his PDP vultures to see if they could distract the governor.
For a Party that stripped Nigeria naked and nearly milked her to death in the sixteen years they held sway in most States of the Federation and the presidency, the PDP sees Owelle Rochas Okorocha's achievements in Imo State as one of the biggest indictments against their performance throughout their stay in power. They are not only worried that they will have to contend with a colossus like Okorocha in their impossible bid to return to power, they are also worried that Okorocha's performance as a governor puts their governors on their toes, as Imo State under governor Rochas Okorocha has become a standard for measuring good governance across Nigeria.
It is not by chance that the fake promise of declaring free education at all levels of education was announced by the Party within the same time as Mr Femi Fani-Kayode's social media madness was raging. The timing of that announcement further confirms that FFK's diatribes against Okorocha were directed from the PDP. The PDP knows that the success of the free education program in Imo State is a major reference point in good governance, hence its desperation to try to swindle Nigerians with a promise to copy it if they are elected back to power in 2019. However, Nigerians are not stupid. Nigerians know that Governor Okorocha was able to actualize his free education policy because it is something he has long practiced as a private citizen, through his Rochas Foundation Colleges spread across the African continent. Nigerians are also aware that the PDP had all the time in the world to implement a free education policy in the sixteen years they held sway, rather they went about telling everybody who cares to listen how it is impossible to run a free education program. One of their leaders even took it a step further by saying that; "Education is not for the poor."
It will be safe to say that no one sincerely hate Governor Rochas Okorocha, even the foul-mouthed Femi Fani-Kayode and his fellow caucus members in the vultures' conclave. You either love Rochas, fear him or you envy him. You cannot sincerely hate a man who hates no one and who treats everyone like they are his direct siblings and friends.
The PDP has to understand that Governor Okorocha is not the type of politician to be distracted. He is too passionate to pay attention to the ranting of frustrated and spiritually tortured felons who run the risk of being choked by the blood of innocent Nigerians they have spilled through corruption and irresponsible governance. However, the Party, which is fast degenerating to the worse political association to have existed in the history of politics, can still get its acts together by looking inward and finding ways to among other things, douse the raging inferno in its own house.
Between Okorocha and the PDP, Nigerians understand that they have a choice. It is a choice between the strangulation of opposition and a choice for freedom of association and freedom after speech, a choice between corruption and transparency, a choice between insecurity, kidnapping, failed infrastructure and the prioritization of security of ordinary citizens, massive improvement of our basic infrastructure and the availability of basic social amenities. Nigerians have a choice between ceding their power as a people to a small clique of vultures and exercising this power without any form of intimidation from any quarters. Nigerians know better.