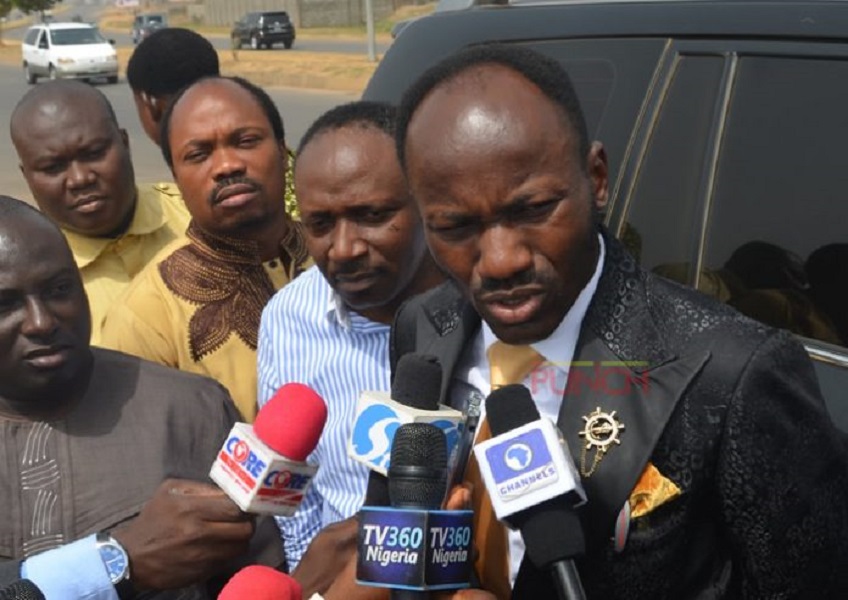 The Northern Christian Youth Network (NCYN) has alerted Nigerians to the surreptitious and dangerous moves to silence the General Overseer of the Omega Fire Ministries, Apostle Johnson Suleman as part of a well orchestrated campaign to intimidate opposition elements ahead of 2019 elections.
The 
NCYN in a statement issued in Abuja
on Wednesday
by its Secretary, Mr. Yunana Jacob, the group said the two-pronged plan being hatched by the Governor of Kaduna State, Mallam Nasir El-Rufai involves using the Department of State Services (DSS) to intimidate and put away Apostle Suleman-the undisputed champion of Southern Kaduna Christians, as well as trying to cook-up  spurious allegations of infidelity against him.
The Christian youth group said Governor El-Rufai's agents have been recruiting young women from across Nigeria and some other parts of the world to discredit and impugn the credibility of Apostle Suleman in a manner that has never been seen before.
"We have no doubt that from the events of the past weeks, that security agencies have been under tremendous pressure to frame Apostle Suleman under spurious charges to put him out of circulation, for daring El-Rufai over the persecution and killing of Christians by Fulani herdsmen in Southern Kaduna," the statement said.
Jacob said the group was slow to react to the unfolding drama because it was shocked when the news first broke, but realized after thorough investigation that El-Rufai's 2019 presidential ambition was at the heart of Apostle Suleman's travails.
He said Kaduna State Governor's grand design is to hound his perceived opponents and to ruin every other persons' chances just before the 2019 general elections, thus paving the way for him and his co-travelers to have a field day in running the polls with little or no challenge.
The group warned, however, that Nigerians are very discerning and will easily recognize when an innocent man is being framed for political reasons.
"The days of anarchy, when innocent people were slammed with spurious charges or their reputation dented to satisfy the inordinate ambition of some persons are gone,'' the group said.
On the attempt to compromise Apostle Suleman's matrimonial home, the Northern Christian Youth Network warned that it will fail, "especially now that such devilish plans have been exposed by the same girls that have been hired to rubbish the man of God".
"The life of any human being, including Apostle Suleman's, is in the hands of God. We should warn that human life is so sacred that no one should do anything to take it. That is and would remain our stand," the group said.