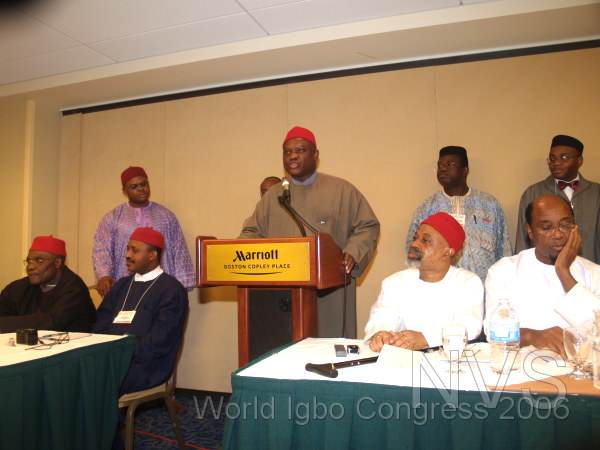 Press Release
It is in the greater interest of the Igbo Nation that I very strongly recommend Chief Nnia Nwodo to be unanimously elected as the President General of OHANEZE on Tuesday, 10/01/2017. I make this recommendation with every sense of responsibility and patriotism. Chief Nnia Nwodo towers head and shoulder above those who have stepped forward to contest for the office of President General of OHANEZE in terms of commitment and personal sacrifice to the course of the apex Igbo socio cultural organisation, consistently for several years. I wish to state unequivocally that I became a member of the IGBO FORUM as an undergraduate of the University of Nigeria, Enugu Campus in 1976. Igbo Forum was renamed Ohaneze Ndigbo in 1979. I have been involved in the affairs of Ohaneze for an unbroken period of 40 years. I am therefore in a sound position to proffer an opinion on the fit and proper person to be considered for the exalted office of the President General of Ohaneze.
I venture to state without any fear of contradiction that Chief Nnia Nwodo has paid his 'dues' satisfactorily to Ndigbo and Ohaneze. Let me remind members that Chief Nnia Nwodo played a central role in supporting his elder brother, His Excellency Dr Okwesilieze Nwodo, the former Governor of Enugu State to donate the present National Secretariat of Ohaneze complete with a Certificate of Occupancy.  Chief Nnia Nwodo singlehandedly sponsored and hosted several meetings of the IME OBI (Elders Council) of Ohaneze when we were meeting monthly. Chief Nwodo was the Chairman of the Constitution Drafting Committee of Ohaneze. I served as the Secretary of the Committee. He practically converted his Law Office complete with his staff to the secretariat of the Constitution Drafting Committee until we completed the assignment and submitted our report to Ohaneze. The Ohaneze profile of Chief Nnia Nwodo is unassailable. Ndigbo are at crossroads in Nigeria today. The Ohaneze leadership we must elect at this time cannot be somebody who has just chanced on the Pan Igbo Organisation.
May God guide Ndigbo to make the right choice. I have made mine. He is CHIEF NNIA NWODO.
–
Chief Chekwas Okorie
Ojeozi Ndigbo