…donates rice, cash totaling N407 million to APC members in Imo
Governor Rochas Okorocha of Imo State
on Wednesday
told the people of the state that he will not allow the former member representing Okigwe Senatorial District of the state, Senator Ifeanyichukwu Godwin Araraume to the governor of the state come 2019.
The governor, however, stated that he had not endorsed anybody as his successor, even as he told members of his party, All Progressives Congress (APC), willing to contest for elective positions in 2019 to start holding political meetings so as to enable them soften the grounds before open campaigns would be permitted by the Independent National Electoral Commission (INEC).


Governor Okorocha made the remarks during the APC stakeholders meeting held at the Imo State International Convention Centre, Owerri,
According to him, "I am using this platform to make it open that I have not endorsed anybody as governor for 2019, nobody has informed me he wants to be governor except Senator Ifeanyi Ararume who told me two days ago.


"When he mentioned to me of his intention to contest the 2019 governorship election, I told him that he should not nurse such ambition, but rather think of joining me to Abuja where I feel we can do more jobs as senior hands for Imo State'', Okorocha noted. 


He said apart from that, "I will like to say that any of you willing to contest election in 2019 should commence holding stakeholders meetings whether you are still a serving officer or not, we are members of one party and everybody is free to contest elections.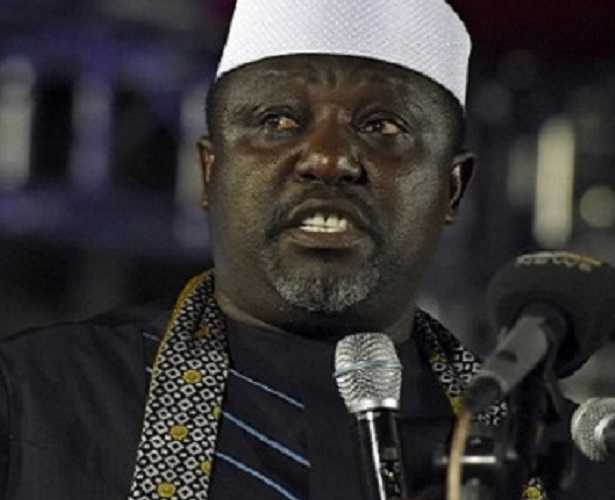 At the meeting attended by wards, local government, and state party executives, the governor gave them 18,500 bags of rice valued at N370 million and N37 million cash.
Okorocha said that each ward should collect 50 bags of rice valued at N1 million and N100, 000 cash.

He said the gesture was Christmas and New Year gifts for APC members in appreciation of their hard work and keeping faith with APC.


"We provided 18, 500 bags of rice and each ward out of 370 wards will go home with 50 bags worth N1 million and N100, 000 cash per ward.


"The rice and money should be shared among the members of APC alone, no traditional rulers nor Peoples Democratic Party (PDP) members should partakes in the sharing,'', he said.


Okorocha, who showered praises on APC members for keeping faith with the party in spite of months of suspension of financial funding of the party due to economic recession, assured the party executives that more cash would be pumped into the party activities henceforth.


"I recently released N20 million to each of the 27 local government areas which was shared through the (state development council) for the grading of rural roads in each ward and N400, 000 for the organizing of cultural carnival in Owerri last December.


"We are planning to renovate schools buildings, award contracts for the sewing of school uniforms and henceforth these projects must pass through party structures to empower our supporters'', Okorocha said.


The governor announced that APC will soon commence membership registration exercise across the state with a target to capture at least 1.5 million members in the state.


Okorocha explained that the registration must be conducted before 370 ward executives members could come and carry 5o bags of their rice now heaped within the premises of Imo International Convention Centre, Owerri.


Some of the party men and women who spoke, commended Okorocha for his achievements especially in roads construction, free education, and urban renewal, but stressed the need for empowerment of APC supporters.