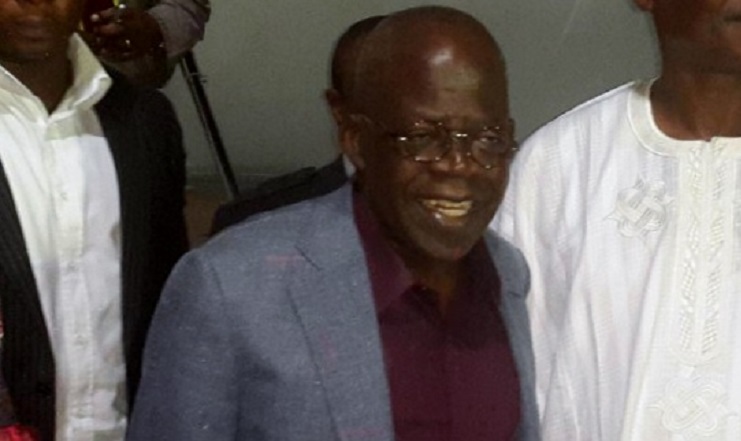 National Chairman of All Progressives Congress (APC)  Chief John Odigie-Oyegun, has declared war on a newspaper owned by the National Leader of the party Bola Ahmed Tinubu, over the reported comment attributed to the National Chairman.
In a statement signed by Chief of Staff to the APC National Chairman Edwin Ikhinmwin, described the reports by the Nation Newspaper as libellous misrepresentation of the National Chairman's comments at Thursday's mega rally the Party held ahead of Saturday's legislative re-run elections in Rivers State.
"The Newspaper in its front page report (published Friday, December 9, 2016), titled:"Rivers rerun: APC tells supporters to fight back" falsely quoted the APC National Chairman, Chief John Odigie-Oyegun as calling for a "fire for fire approach" and calling on APC supporters to "shoot" and "kill"during the Rivers re-run election.
"The libellous comments are clearly a most wicked fabrication and are also at odds with the Party's zero tolerance policy for violence. After a thorough review of all news reports from the mega rally which was transmitted live on television, it is curious that only the Nation Newspaper quoted the APC National Chairman as having made the fabricated statements.
"The media and general public are advised to disregard the fabricated statements. The statements are false, ill-motivated, mischievous and irresponsible. The Party's legal department has since written the Nation newspaper requesting a retraction.
"The journalism profession across all platforms – online, print and electronic – has a duty to adhere strictly to ethical standards expected of the journalism profession. No news medium is exempted from these ethical standards.
"The APC National Chairman has consistently advocated for peaceful, free, fair, transparent and credible elections. The National Chairman will not be part of any plan that will lead to loss of innocent lives.
"The comment by the National Chairman at Thursday's mega rally was clear. The APC is on a rescue mission in Rivers State to save the people from the blood thirsty and oppressive regime in the State. He called on APC supporters to protect their votes. He expressed the determination of the federal government to ensure a peaceful, transparent and credible Rivers state re-run election on Saturday through the massive deployment of security, so that voters do not stay away out of fear."