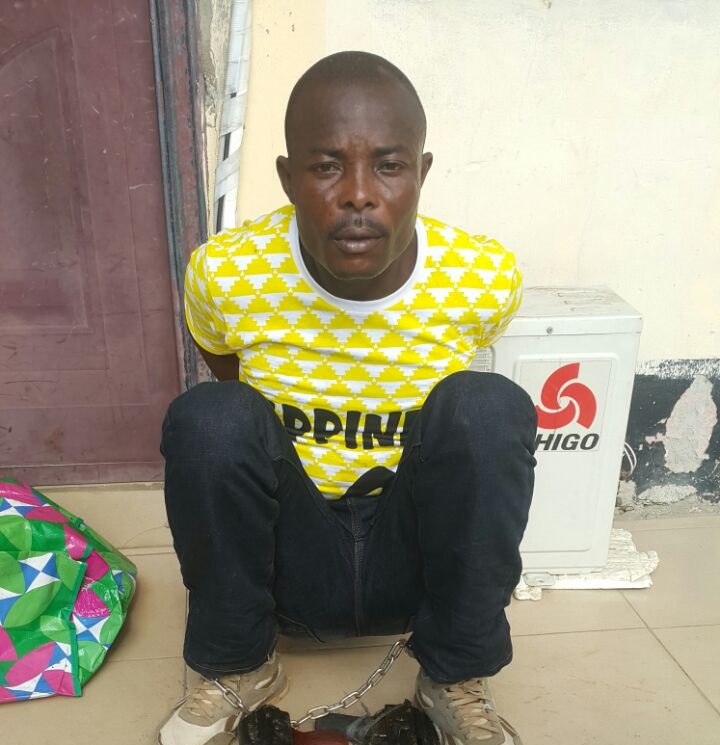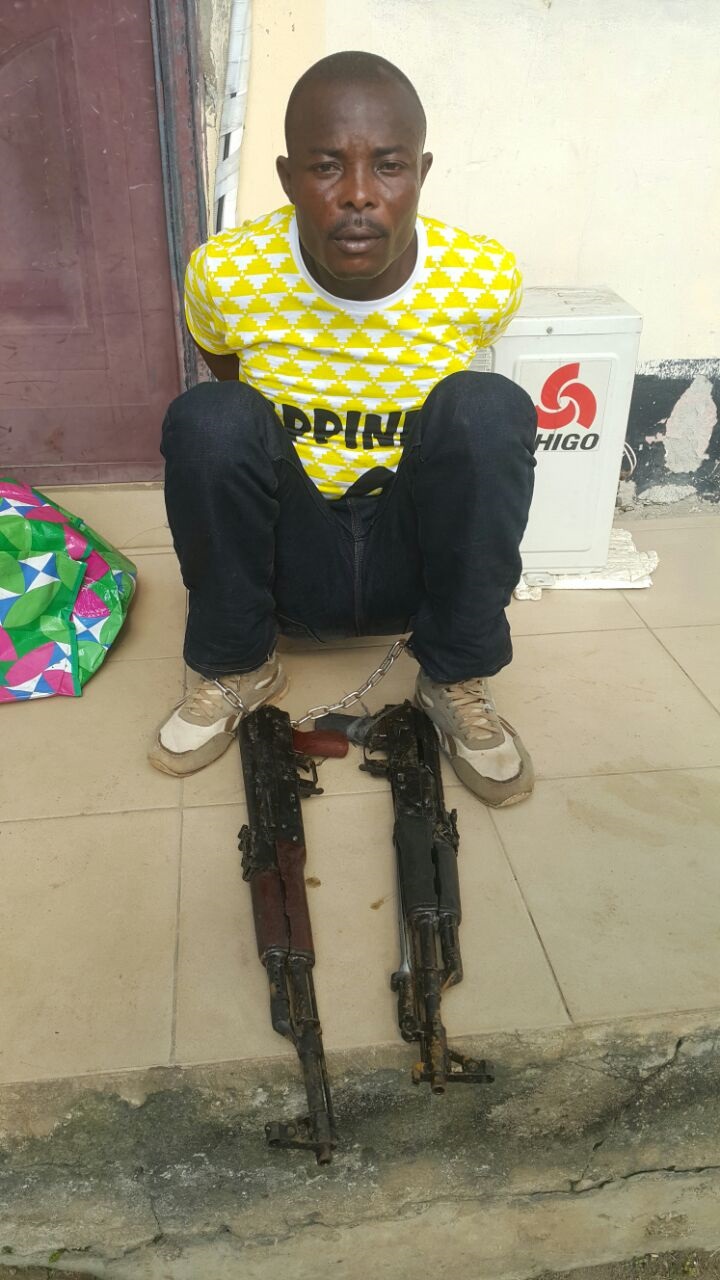 Press Release
Principal Suspect:
Abiodun Amos (AKA) Senti (43) years
Exhibits
Two (2) Cartons of Explosive Devices and 125 Detonators.
Two (2) AK 47 Rifles.
Working on credible intelligence at the disposal of the Nigeria Police Force indicating that criminal militant elements are planning series of attacks on government infrastructures and facilities in Lagos state, the Inspector General of Police, IGP Ibrahim K. Idris NPM, mni, directed the Intelligent Response Team (IRT) to use the Technical platform of the Force to trail and arrest the militant gang before they carry out the heinous crime.
After a painstaking surveillance and monitoring by the police (IRT) team, the principal suspect Abiodun Amos alias SENTI who is the leader of the Militant Gang planning to bomb the 3rd Mainland Bridge in Lagos was arrested on 2nd of November, 2016 in a hideout at the bank of Majidun River in Ikorodu area of Lagos State and two AK 47 rifles recovered from his possession. The principal suspect is an Ijaw man and a Native of Ese Odo LGA of Ondo State. He is an Explosives Expert who specializes in assembling and modifying large scale Improvised Explosives Devices (IED) for terrorist act. The suspect also volunteered confessional statement to the Police and named other members of the militant group that are still at large.
In the course of further investigation into the case, one of the suspects at large mentioned to the Police by the principal suspect as the person in possession of their explosive devices and the detonators was trailed by the Police (IRT) Operatives on the 26th December, 2016 while conveying in a Toyota Camry Car, two (2) Cartons of Galantine Dynamite Explosives and Hundred and twenty five (125) Detonators in the boot of the Car in a location in Ikorodu area of Lagos state on his way to link up with the other members of the militant gang to blow up the 3rd mainland bridge.  The Suspect, on sighting the Intelligence Response Team Operatives jumped out of the Car and escaped into the nearby Bush. The explosive devices and the detonators were recovered by the Police IRT operatives and the Explosive Ordinance Department, and the attack that would have been a major devastating and colossus damage to Lagos state and Nigeria was averted. Further investigation is being intensified to arrest all the other members of the militant gang still at large.
The IGP is hereby assuring all Nigerians of adequate security and commitment of the Nigeria Police Force to work assiduously to nip in the bud militancy and other forms of criminalities that can throw the country into a large scale mayhem and massive loss of lives and properties. He urges every Nigerian to remain calm, be law abiding and see themselves as stakeholders with the Force in making the country safer.
DCP DON N. AWUNAH, fsi
FORCE PUBLIC RELATIONS OFFICER,
FORCE HEADQUARTERS,
ABUJA.