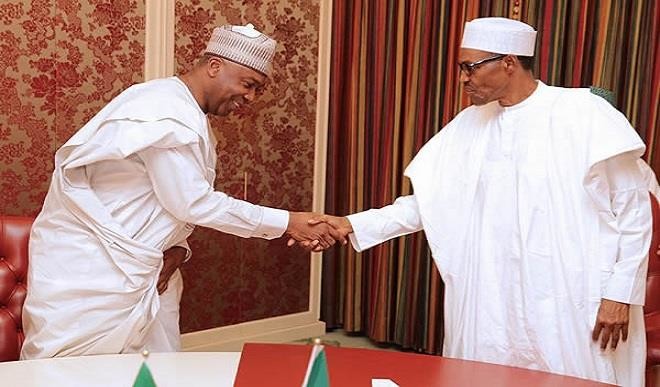 Senate President Bukola Saraki yesterday again visited President Muhammadu Buhari at the Aso Rock Presidential Villa in Abuja.
They both met behind closed-doors inside the president's office for less than an hour.
The Senate president did not speak to State House correspondents before leaving the Presidential Villa.
It was however, gathered that the meeting discussed Buhari's $29.9 billion loan request which the Senate turned down last Tuesday.
Saraki and Buhari had last Friday held a similar meeting after which the former told journalists that the rejection of the loan request should not be seen as a reflection of the relationship between the executive and the legislature.
The Senate president had also then cautioned that such "a very important issue" should not be politicised.
President Buhari had sent a request seeking for the approval of the National Assembly for a $29.9billion foreign loan. The request suffered setback when senators rejected it.
The loan, if approved, according the president, will go to areas such as health, power, railway, roads, education, water resources, among others.
A breakdown of the proposal shows that $11.274 billion was for projects and programmes, Special National Infrastructure Projects $10.686 billion, Euro Bonds of $4.5 billion and Federal Government Budget Support of $3.5 billion.
–
Source://www.dailytrust.com.ng/news/general/saraki-buhari-meet-over-29-9bn-loan/171035.html#JDylfruMqV7m6EZA.99