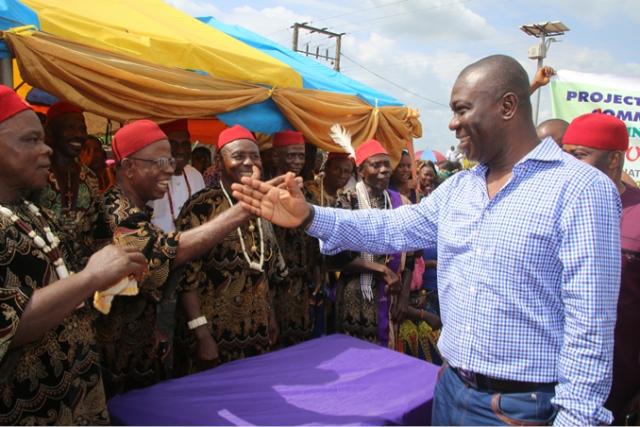 The Deputy President of the Senate, Senator Ike Ekweremadu, has called Nigerians irrespective of political, ethnic or religious lining to work together to bring the country out of recession, says he has forgiven those behind his arraignment for a crime he never contemplated.
Saying that the larger interest of the country towers above his personal interest and feelings noted that what is ahead of us are more challenging and "that is more important to me than anything else". "We must bury our political, tribal and religious differences and come together to save this country from "otherwise avoidable situation we find ourselves, the recession".
The Deputy Senate President who addressed his supporters during a victory party held in Enugu weekend said is forgiven those who brought the persecution because it is not by his power or strength but the prayers and supplication of 'you that God saw and in his mercy this case came an end in this manner.'
Speaking on reason while we are in recession, Sen. Ekweremadu said it is because we have not taken advantage of our diversity. "There are so many people with different gift; some with gift of prophecy and some have gift of evangelism. So when God brought us together as a country there are some people who are made to be Herdsmen, some people are made to be professionals in different areas, but the Igbo people have special gift. They can survive in any circumstances, they can change any circumstances and if this country must come out of recession, they have to bring Igbo men and women into the administration of this country.
"In a body there are difference functions, the leg cannot function as hands neither can the ear function as your eye. So if you decide to close your eye because you have ear and keep working obviously you are going to fall into a ditch. You must open your eyes and activate your eyes if you must see to get to your destination but, if you close your eyes pretend that it doesn't matter obviously you are going to enter a ditch and that is exactly what is happening in Nigeria. The day we decide to make use of the skills and intellect of Igbo man in the governance I believe that will be the beginning of progress in this country.

 
While appealing that every part of this country should be included in the governance of this country, Ekweremadu said we have different specialties and we must deploy it for the good governance and well being of this country.
The DSP however, thanked his supporters for their solidarity. "I thank you again, each day I fill satisfied, I feel fulfilled; fulfilled in the sense that when I look at you and what happened today I know that if anything happened to me today you can take the mantle. You planned this ceremony in shortest moment and executed it perfectly well, and responded in a moment. I believe that we all can face any challenge from anywhere.
While he pledged to serve his constituency with integrity and humility not mindful of his fallibility as human being he is said, "so I will continue to serve you with my mind, I will continue to represent you with all I have. Like I have told some of you that I can never do anything I cannot explain, I can never find myself in a situation where I cannot be proud

tomorrow

to explain why I find myself in that situation. I cannot say that I don't have my own fault; I have fault like every other human being but as a public servant I will uphold the integrity.
Sen. Ekweremadu addressing the mammoth crowed who gathered in his Enugu residence, thanked his governor, Hon. Ifeanyi Ugwuanyi for his support and solidarity throughout his trying moment of the prosecution.
He equally thanked men of God and those who are not men of God for their prayers and supplication. "God have hears your prayer that is what we are witness today. God have answered our prayers in every special way and I am very grateful. I want to enjoin us to let us continue to work together for the interest of our people.

  

  

    

  

   
"I thank the speakers of the European parliament, British parliament and the ECOWAS parliament for their support throughout the persecution. Thank them for their support and solidarity. I will continue to ensure that our democracy grow stronger because this country is big enough for all of us and potentials enormous".
Speaking earlier, the member representing Ezeagu state constituency at the State House of Assembly and the chairman house committee on Agriculture, Hon. Chima Obieze thanked God for his mercies even as he expressed optimism that what happened was God's design which would later strengthen Sen. Ekweremadu to do more good.
Hon. Obieze urged him to continue believing and hoping in God, because he believe that God has something great for him, which he believe would manifest sooner than later.