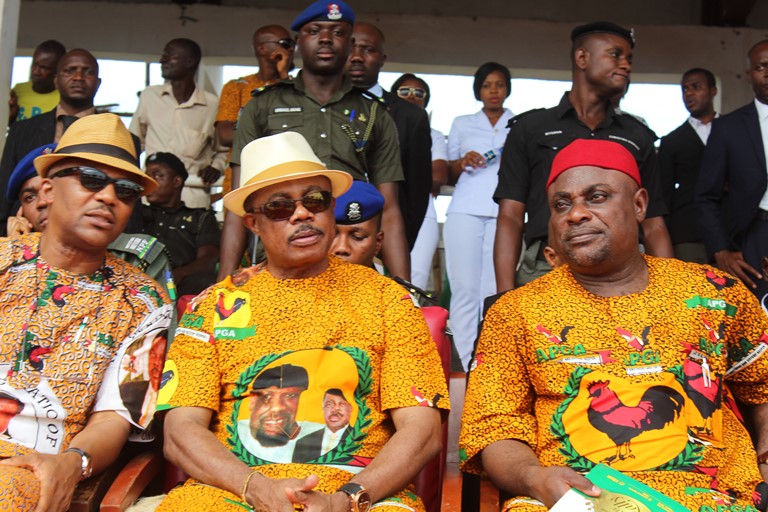 Our attention has been drawn to a publication on page 14 of Punch newspaper of 7th October 2016 titled –  "APGA Crisis: Obiano May Join APC," which alleged that the Governor of Anambra State, Chief Willie Obiano may dump the All Progressives Grand Alliance (APGA) for the All Progressives Congress (APC).
The general public is hereby advised to disregard the report as it is totally false and does not have the slightest semblance of truth.
Governor Obiano remains a committed member of APGA whose loyalty to the party is unalloyed and whose passion for the growth and development of the party is beyond equivocation.
It is strange how a clique of internally displaced politicians has continued to circulate spurious and misleading information on a non-existent and sensational figment of their fevered imagination in order to sow confusion among the populace.
Despite the repeated rebuttal of this false report in the past, these vendors of untruth have continued to plant misleading information in the media about a false defection of Governor Obiano to one party today and another party tomorrow.
Nevertheless, we are not unaware that a major motive for the planting of these lies is to distract the governor from focusing on his job and consequently derail the steady and assured March of Anambra State to prosperity.
So, we shall continue to rebut their malignant lies and save the populace from their corrosive influence.
As the Leader and Chairman of BoT of APGA, Governor Obiano is fully aware of the weight and significance of his responsibility and will never waiver in his commitment to the party.
We therefore advise all mischief makers and authoritative speculators to desist from further efforts to create the impression that Governor Obiano has jumped political ship as it only creates doubts and credibility issues for such publications who are obviously diminished in the sight of discerning readers who would always recall that the report was misleading.
We also advise APGA faithful, Ndi Anambra and the general public to be mindful of any reports alleging that Governor Obiano has either decamped or is planning to decamp as it is nothing better than a false piece of irritating propaganda that should be ignored by responsible citizens.
Signed

James Eze