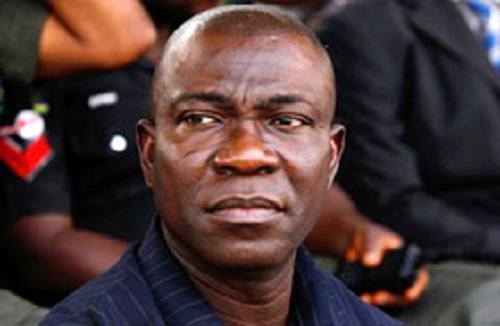 …Descries bogus contracts
…Says a hungry man needs no conferences
The Deputy President of the Senate, Senator Ike Ekweremadu, has called on the Senate to Institute a public hearing into the humanitarian crisis in the north-eastern part of the country, so as to unearth those feeding fat on the misfortunes of victims of insurgency and terrorism.
He made this known

on Tuesday

, on the floor of the Senate, while contributing to the motion on the matter, moved by Senator Kaka Garbai, representing Borno Central Senatorial District of Borno State.
According to Ekweremadu, the call became necessary because money meant to cater for the victims of Boko Haram, appears to have gone into private pockets.
He said: "I have looked at statistics presented to us in this motion and I don't think that we need any further investigation to know that there is fraud here. The first two items are reference to conferences and the third and fourth relate to consultancy. What does a hungry man have to do with consultancy and conference? How are we addressing the issue of hunger by conferencing and giving money to people for consultancy? If you look at the payment dates, those first two items were released in one single day and the three consultants received three payments in one single day-split contracts.
"Apparently, these monies have gone into some people's pockets. There are payments for supply of non-food items to Borno and also supply of logistics and non-food items to the same Borno to the same company. The payments were all released same day on 30/3/16. You don't need any Accountant to tell you that some people are making fortunes on account of other people's misfortune.
"I believe that this is not just a matter of going to investigate, this requires public hearing. Nigerians need to know who and who are behind these companies and what monies have been released and to who and what they have used it for.
"Unless and until we do this as quickly as possible, many more of our people will continue to die in the north East of Nigeria and God forbid that we should sit here as leaders and watch this happen."

The Deputy President of the Senate, who said he wept  after watching a news item on the African Independent Television, AIT, concerning the plight of the victims, further said: "When I was leaving my house for the chambers this, I spent another 20 minutes watching AIT and I saw the degree of hunger and starvation that is taking place in the North East of Nigeria and I wept. I wept because I understand what they are going through, because I too was a victim. I was born few years before the Nigerian civil war and we found ourselves in a similar situation that our younger ones, our brothers and sisters are going through today in the North East.
"In 1968, it was said that the Biafran crisis was then the worst humanitarian crisis in the world. Today, in 2016, we are being told a part of Nigeria is suffering the worst humanitarian crisis and it pains me and I believe it pains all of us. I have taken time to personally visit some of these camps so I understand what they are going through.
"We have just had independence day celebration; we have had Sallah, but the truth of the matter is that the people we are discussing now were not part of those celebrations and unless we do something today and quickly too, they will not be part of the next celebration because every day is becoming very late as some of them will die in the next 24 hours. It behoves on all of us as leaders to ensure that this does not happen.
"You do not know who will be what

tomorrow

or who will save who and who will play a particular role

tomorrow

. So, it behoves on all of us to show particular concern about what is going on in the North East, especially the issue of the humanitarian crisis and the starvation going on there."