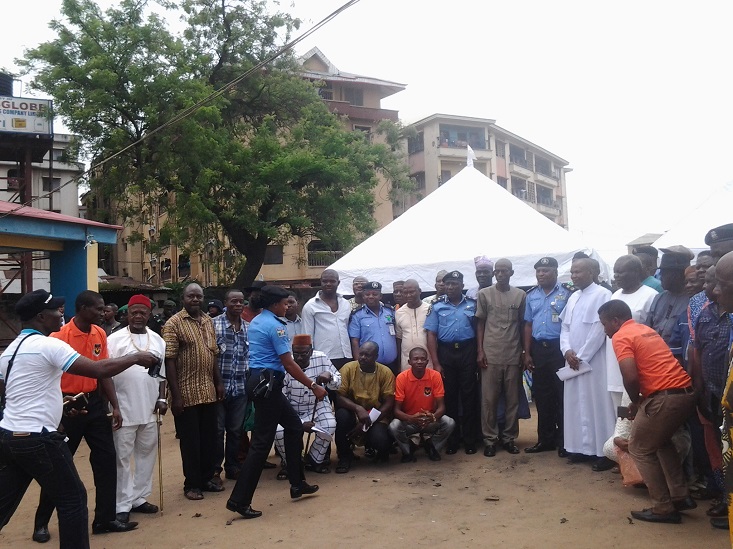 Anambra State Commissioner of Police, CP Sam Okalue has reteritated his readiness to transfer some of the officers under his command to the hinterland police divisions as against the over crowding of the urban divisions by some policemen.
CP Okalue who was reacting to questions from Journalists during his working visit to Fegge Police Station

on Monday

also added that he is still touring the police divisions under his command, aimed at assessing and straightgizing as to affect possible inter-divisions' transfer cum fighting crimes and criminality in Anambra State.  
The CP who frowned that one of the questioners (Journalist) accused some of his men to have abetted the men of the underworld before now, courtesy of long stay in one police division as against regular transfer, which is part of the police routine, also said; "in as much as I appericate the fact that some of my men preferred staying in urban divisions was not enough to accused any policeman of  abetting crime and criminality".
"If I have my way, I should have get you arrested (referring to a Journalist who asked the question). I quite agree with you to a point that some Divisions in the rural communities are lacking manpower because some policemen always like to be posted in an urban Divisions, I am going to look into the case of shortage of manpower in the rural police divisions as soon as I conclude my tour to all the police divisions in the state". He noted
On what he has in stock for the men of the underworld, paticularly now that we are in the ember months, the one time Grand Commander, Special Anti-Robbery Squad (SARS) Lagos State, said there is no more hiding place(s) for the criminal elements in the state even as he advised any person with questionable character around Anambra state to vacate for his/her own best interest.
Ealier in address of welcome,  the Divisional Police Officer (DPO) in charge of Fegge Police Division,  SP Rabiu Garba,  informed his visitor that due to heterogeneity of the community in Fegge, the community has before now attracted all manner of social milieu,  and this according to the DPO,  makes the community more volatile and vulnerable to criminal activities.
"Before now, kidnapping and armed robbery became order of the day in Fegge but to my assumption in office in Fegge in February 2015, records show no incident of armed robbery nor kidnapping is registered in this Division till date. 
"We have not rested our oars in pursuing our crime preventive strategies,  which include constant raid of black spots and known notorious criminal hideouts within the Division,  arrest of illegal tax collectors and extortionists from Onitsha North and Ogbaru youths disturbing people uploading their goods or renovating their houses and shops amongst others". The DPO stated. 
On war against illicit groups in the nation,  the man behind crime free in Fegge community said him and his men makes it uncomfortable for National Task Force on Small Arms  and Anti-sumggling to stay in his jurisdiction based on illegality to the establishment and function NATFORCE. 
"Similarly, all touts that are blocking the highways within Fegge Division were arrested and charged to court under Cap. T2, Taxes and Levies Act of 1998, and we secured convictions".DPO stated
On the enforcement of the Anambra State law on  banning motorcyclists' operators between the hours of 1900hrs to 0600hrs, the nonsense Rabiu Garba stated it that his Division has arrested so many of the breakers and charged same to court, this according to the DPO has added visibility policing he adopted to build up psychological confidence of residents of Fegge in Nigeria Police. 
Emphasising that there is great change of attitude from the officers and men serving in Fegge Police Division in a positive direction,  it was gathered that the Divisional Police Officer have held several lectures and in-house-training with his men hence one can attest to human face policing in Fegge Police Division. 
The state Commissioner of Police who used the occasion to introduce the first ever female Police Public Relations Officer (PPRO) in Anambra State, (ASP Nkiruka Nwode), revealed that he is one of equal gender crusader. The highlight of the event include inspection of guard of honour mounted by the officers and men of the Fegge Police Division,  dancing display,  amongst others.