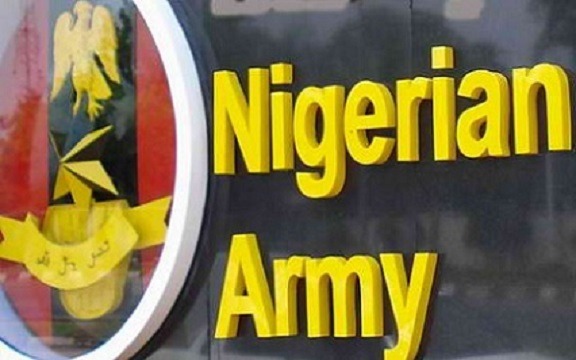 The Nigerian army may have responded to the drum bit of the Niger Delta Avengers which called on them (army) and the navy to meet them (militants) up in the creeks instead of sitting at the comfort of their air-conditioned office.
Loading ...
If care is not taken, the military are out to bombard Delta creeks as they did in Ogun State and part of Lagos where the Army, Air Force and the Navy, last week embarked on an aerial bombardment to rid the Arepo area of Ogun State and parts of Lagos State of criminal elements.
The operation which also involve the Police, the De­partment of State Services (DSS) and the Nigeria Se­curity and Civil Defence Corps (NSCDC), has recorded substantial numbers of casualties.
The General Officer Commanding (G.O.C.) 2nd Division of the Nigerian Army, Ibadan, Major-General Kasimu Abdulkarim who paid a courtesy call on Governor Ifeanyi Okowa Thursday told the governor that he was on tour of states the 2nd Division of the Nigerian Army covers which includes Delta, Edo, Oyo, Ekiti and parts of Niger States, disclosing that the "Nigerian Army is to have a training exercise which is amphibious in nature within the state" but did not disclose the nature of the training.
"We are here to provide adequate security and make the environment safe for all", the G.O.C., said.
The Niger Delta Avengers who have threatened to cause more havoc to the military, said, "Nigeria military has not seen embarrassment. NDA will keep embarrassing you because the only thing you are good at doing in the Niger Delta region is arrest and killing of innocent citizens of the Niger Delta in the name of looking for NDA and illegal bunkering".
The Avengers challenged the military thus: "If the Nigeria military is serious about arresting NDA let them come to the creeks of the Niger Delta. That is where we dwell not the city. If I, Brig.Gen Moduch Agbinibo, was the Commanding Officer NNS Delta, Commodore Joseph Dzunve, and commander of the so-called Operation Delta Safe, Rear Admiral Joseph Okojie, I would have been in the creeks instead of sitting at the comfort of my air-conditioned office", the Avengers mocked.
"The reason behind military harassment of towns and villages in the Niger Delta is because NDA have not confronted the Nigeria military in battle. We are not scared in confronting you. The creeks of the Niger Delta belong to us so defeating the Nigeria military is not hard for us. We have made it clear in many occasions that our business is to cripple the Nigeria economy not to kill military. The Nigeria military should not we (NDA) avoiding them is a sign of weakness".