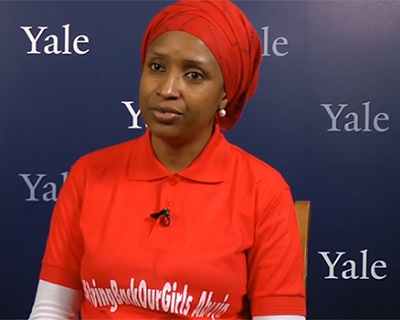 The Thisday daily of 12th July 2016 had a headline "Buhari Considers Hadiza Bala Usman As Head of NPA". Similarly, dozens of other new and old media made this story their headline. Ms or Mrs Hadiza Bala Usman is currently the Chief of Staff to Governor Nasir Ahmed El-rufa'i of Kaduna State. Lady Hadiza is one of the powerful non-natives appointees that their words and wishes are law in Kaduna State. Her near unlimited powers had severally triggered a feeling that, she is the de facto Deputy Governor of the State. Sequel to that,rumours had severally flew around that she had clashes with almost all other top aides of Mr. El-rufa'i.
When Ms/Mrs Hadiza was appointed, many inquired her state of origin. The question became pertinent because in 2011 and 2015 polls she contested House of Representatives seat in Katsina State.In 2011 Ms/Mrs Hadiza was the only Congress for Progressives Change(CPC) House of Representatives candidate  that lost elections in Katsina State. In 2015 elections,she was defeated in her All Progressives Congress (APC) in-house selection process called party primaries. If claims littered herein are incontrovertible cum impeccable, how did she changed her state of origin between December 2014 to May 2015 from Katsina to Kaduna State?
This lady has a controversial history that most of us are curious and want to know. Page 1 paragraph 2 of the stories under spot of Thisday of 12th July 2016 called her Ms, while page 8 said "she is married to Dr.Tanimu Yakubu,former Chief Economic Adviser to the late President Umaru Musa Yar'Adua, and they have two kids".  ThisDays news reportage has once more raised issues bordering her status and state of origin. Is it possible to be married to a Katsina man and still be an indigene of Kaduna State? Technically, once a lady is married, she is automatically an indigene of her husband's state. So, those who questioned her state of origin and said she is from Katsina when she was appointed by Mr. El-rufa'i were right. And those who defended and advanced stories that she was born in Sabon Gari Zaria thus an indigene by birth are wrong.
Her nomination as NPA chief has reignited  the controversy surrounding her state of origin. Is she picking the NPA position as Kaduna or Katsina State  seat? In APC's power sharing arrangement, NPA must have been designated to a state….we want to know whether it is for Kaduna or Katsina state? If it's for Katsina State- fair and go…but if it is for Kaduna State…too bad because it has once again denied Kaduna State their chance.
Again, even within Kaduna State,that has once more shortchanged Southern Kaduna people who were denied the state ministerial seat and other sensitive positions within the state. Where are my Southern Kaduna APC urchins? I want them to talk on this, before it's too late. This must clear any iota of doubt that, APC kingpins in Kaduna State have a sectional agenda.