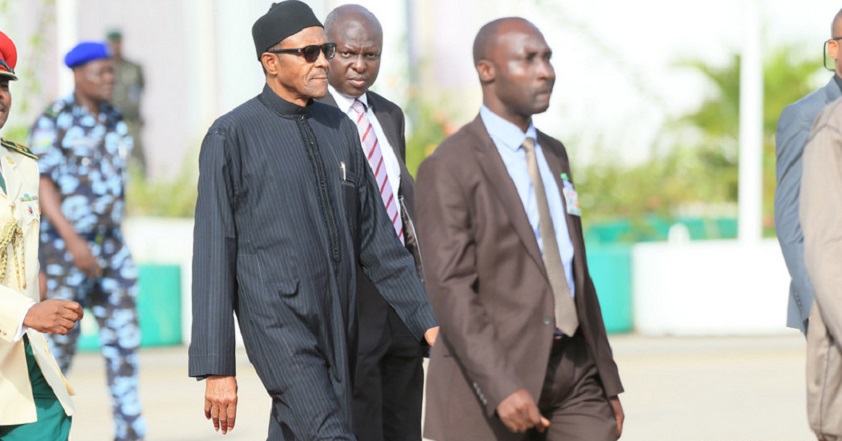 It is obvious with the events in Nigeria that the nation state is gradually turning fascist, especially the manner some elements within the ruling party is pursuing the fight against corruption, leading one to ask who is misleading President Buhari.?
I want to speak out on this emerging fascist state so that when the nation (minus me) is engulfed in another self inflicted problem, my conscience will be very clear. That was how, with over thirty write-ups and expositions on the subject of Boko Haram, since 2011, all I predicted came to pass including massive embezzlement of trillions of naira under the guise of security, wastage of lives of over two thousand gallant rank and file of the armed forces, murder of over 20,000 harmless civilians and displacement of millions of people. The Jonathanian regime for political expediency, allowed Boko Haram to overrun the country. The Buhari regime should not allow fascist mentality to overrun his leadership.

I was an avowed supporter of the 'Change Regime' of Buhari, both in Prayers, Public and Private Campaigns and Mobilizations, and it is obvious that somebody somewhere, is misleading President Buhari, and using his goodwill as excuse to silent political opponents.

Sambo Dasuki, ex NSA has been detained indefinitely despite court orders for his release. The same with Nnamdi Kanu, Director of Radio Biafra. My friends within the military high command had sworn to me that Dasuki is a huge security risk, and that with available intelligence, if he escapes out of the country, has capabilities of coup plotting. . These revelations from high intelligence community I cannot dispute and as such I grudgingly accept his detention, provided the facilities are comfortable.
Olisa Metuh , Chief spokesman of the opposition parry is on trial for graft, denied bail, denied plea bargain, denied return of looted funds, denied medical facilities.. Those who benefitted from the same arms theft lincluding Raymond Dokpesi, Attahiru Bafarawa, Isa Yuguda among others have all gone home after returning some loot. Olisa Metuh is being treated differently because he is an opposition spokesman. This is a descent into fascism
Femi Fani Kayode is the Chief Spokesman of Jonathan's Campaign Group. He was implicated in the arms deal. He is still being detained despite court orders for his release. Other fellow recipients of another cache of arms funds have all gone home, yet Fani Kayode is being incarcerated ostensibly because he is a spokesman of the opposition. This is another decent into fascism.
Ayo Fayose, Governor of Ekiti State, is another Spokesman for the opposition party; This time around he happens to be the most vocal Governor critic of the Buhari Government. The Department of State Services (DSS) and the anti graft commission has been harassing the aides of this Governor including Afolabi Akanni, who spent 18 days in detention without seeing his family members. Akanni, a member of Ekiti House of Assembly claimed that he was asked to implicate the Governor. The Governor's bank account has just been frozen because he criticizes the government. This is a step into fascism.
Jonathan's Cousin, Azibaola Roberts, also under detention for over three months without trial have alleged that he is being intimidated and asked to implicate ex-President Jonathan in the arms deal in order to get freedom. Though the courts have ordered his release, EFCC have flouted it. Robert's counsel Chris Uche (SAN), said the failure of the anti-graft agency to release his clients was "a blatant disrespect and disobedience of the court's order."
Militant Leader Govermnent Tompolo , after meeting with Buhari in July 2016, was earlier this year declared wanted, allegedly on the prodding of ex Governors Amechi and Sylva over the militant's refusal to support the latter's governorship bid. Their hatred for the warlord was transferred to the EFCC. In the process of chasing Tompolo over theft of a few billions of naira at the Maritime Agency, the Niger Delta Avengers emerged, and the nation had lost over N200 billion naira in lost revenue from shortages of oil supply occasioned by nefarious activities of the group.
Equally opponents of Buhari are converging around the group, as a rallying point. I advised the EFCC publicly to leave Tompolo alone because his boys will create greater economic sabotage for the nation, and also advised the militant to return his loot quietly. Those instigating the fighting Tomplolo, including Amechi , Sylva both former governors and others have superintended over trillions of naira of state funds without proper accountability.
The war against corruption is a laudable policy which endeared us to Buhari, especially from 2003 when he first contested for the presidency and was robbed of electoral victory by Obasanjo-Atiku rigging machine. Buhari during his campaign, promised to abide by the rule of law. I cannot see any rule of law in selective trial of Olsa Metuh. I cannot see any rule of law in selective incarceration of Femi Fani Kayode or the continued harassment of Governor Ayo Fayose because they are avowed critics of this administration. There is no rule of law in detaining Jonathan's cousin and trying to extract implicating statements from him against Goodluck Jonathan.
It is either Buhari is not aware of all these infractions or that somebody is misleading him. Political opponents can misuse power in overzealous show of industry and destroy the good reputation of a principal. Buhari should sack those misleading him that flouting court orders is a way of fighting corruption.
Those who stole Nigeria blind should return their loot. It is commendable that Buhari had blocked over N1,3 Trillion naira stolen through the civil service, using TSA. He has also apprehended grossly corrupt military chiefs and they are vomiting their loot apologetically. Over fifty thousand ghost workers, including those who received gratuities, have been discovered, Over a trillion worth of asset forfeited by satanic thieves. I have publicly exposed hoe over $142 billion dollars was stolen
in six years
, and I commend the regime for pursuing those funds hidden all over the globe.
However, this loot recovery can be achieved without a fascist mentality and disregard for extant laws. Olisa Metuh, Fani Kayode, Ayo Fayose and their lots cannot stop the war against corruption, but vendetta motivated trial can stop the war against corruption. It can withdraw public support for a noble cause. Those who shared billions of dollars in spurious oil deals and fictitious contract awards as state chief executives are still walking freely. Olisa Metuh and Fani Kayode and Robert and their lot should not constitute unnecessary distractions'. EFCC should follow the rule of law, and those misleading President Buhari should note that a fascist state will break up the nation-state called Nigeria.