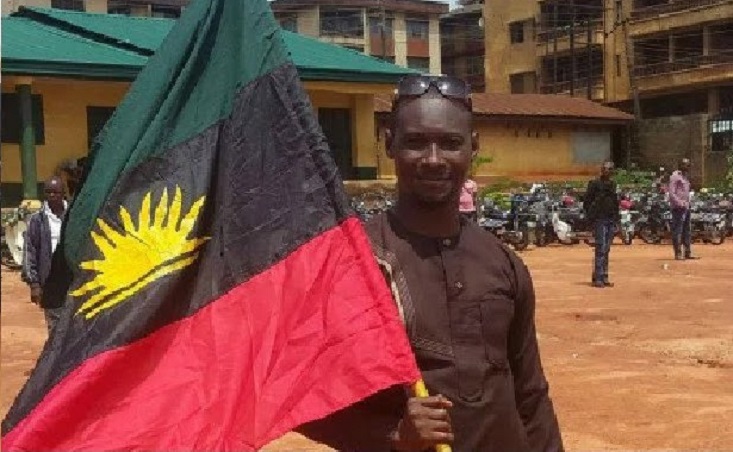 By Ogbonna Casmir
What initially began as a peaceful demonstration in commemoration of the May 30, 1967 declaration of the sovereign state of Biafra by late Dim Emeka Odumegwu Ojukwu, Mondayturned bloody as soldiers shot and killed over 30 unarmed people protesting at Nkpor, Anambra State.
In Enugu State, scores of MASSOB and BIM demonstrators were arrested by the police.
Enugu East Zonal leader of a combination of MASSOB and BIM, Comrade Eugene Eze and several others, were whisked away after addressing the press at Edinburgh Roundabout, Ogui Enugu where the protesters gathered in their numbers brandishing Biafran flags and caps.
National director of Publicity, Movement for the Actualisation of the Sovereign State of Biafra, MASSOB, Comrade Edeson, told 247ureports.com in a telephone conversation that about thirty-seven people were feared killed at Nkpor, Anambra State by armed soldiers.
Pleading with the Federal Government to let them be, Edeson said they were peaceful demonstrators exercising their human right of freedom of association and expression.
"My prayer is that the Federal Government of Nigeria should let us be.  We are non-violent and I don't see why they should harass kill innocent people.
"One thing is certain, no matter the amount of intimidation and threat of death, nothing will stop Biafra," said the MASSOB spokesman.
Prior to yesterday demonstration to mark the May 30 anniversary, another pro-Biafra group, IPOB had intimated that security agencies had been put on alert to stop Biafrans from commemorating the massacre of their loved ones during the 1960 debacle and those killed in different parts of Igbo land in recent time over quest for the actualisation of Biafran state.
Before Comrade Eze was whisked away in Enugu, he told news men that the FG should let them be because they were fighting for their right in a peaceful manner.
His words: "we are not afraid because we are a non-violent organisation.  We have no weapon.  The only defence we have is God and the world.
"We fought a war and the worst is still happening.  There is no hope for the Igbo man in Nigeria.  Since the end of the Nigeria-Biafran War, nothing has changed," he said pointing out that they were not fighting specifically for themselves but for their children and their yet to be born children.
Another MASSOB chieftain, Onyema Marshall, said that the actualisation of Biafra was not negotiable.
"Today is our Biafra Day.  It is an annual event.  It is being celebrated on the 30th May of every year to show the world that Biafra lives forever and that the actualisation of Biafra is not negotiable," Marshall said.
Investigation shows that no demonstration took place at Imo and Ebonyi states.
At the time of filing this report, the Biafra agitators were not sighted anywhere in Ebonyi and Imo states.