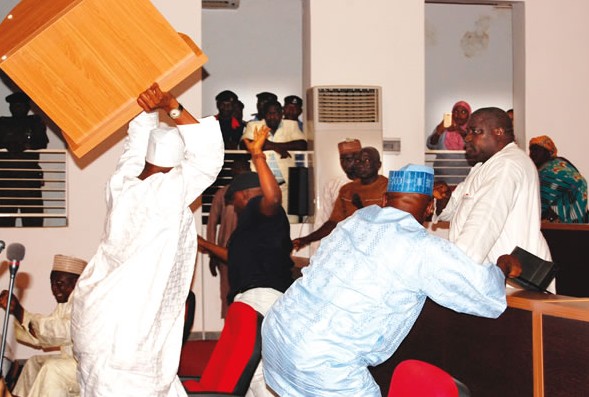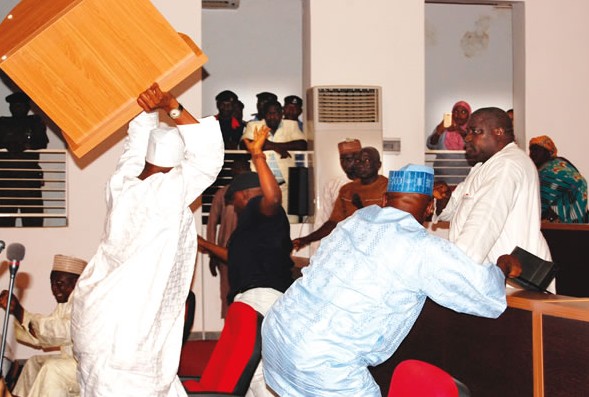 The Nasarawa state House of Assembly has set-up a three man committee to investigate the alleged financial inducement leveled against seventeen members of the Assembly. Seventeen lawmaker were charged with collected bribe money from the Governor of Nassarawa State over a legislative matter. The Deputy speaker, Hon Godiya Akwashiki (PDP) representing Nasarawa Eggon East announced this shortly after the twenty minute free for all fight.
The three man committee was directed to look into the root of the bribery scandal leveled against the seventeen lawmakers who are pro-Sole Administrators. The charge were levelled by six factional members of the state assembly. The seventeen lawmaker were said to have been approached by the governor and convinced through financial inducement to agree and allow the governor to appoint sole administrators at the respective local government councils.
Godiya Akwashiki directed the cashier of the House of Assembly to pay the suspended members half salary without allowances and other benefits.
The six protesting lawmakers had addressed the press over the appointment of Sole Administrators by the chief executive. The six lawmakers who are considered the anti-Sole Administrator group, accused the other lawmakers of collecting large amount of money to allow the Governor appoint his Man Friday's to man the eleven Local Government.
As gathered, the 3-man committee set up by the Speaker is to comprise of Hon. Muhammed Alkali (PDP) – chairman, Hon Peter Mbucho (PDP) and Hon. Sani Isa (APC) are to serve as a committee members respectively.
Meanwhile, the six members have described the suspension as an assault to democracy. The spokeperson of the anti-Sole Administrators, Honorable Makpa Mala said the action of the seventeen members was a total aberration and a rape to social Justice. He further explained that the law would take it cause.
"We have contacted our lawyers over the position of our colleagues. We would challenge the decision through legal means".
The suspended lawmakers include –
Hon.Musa Ali (APC) from Keffi
Hon.Makpa Mala (APC) representing Wamba
Hon.Muhammed Kukwu
Hon.Ogbere Kana (APC) Kokona West
Hon.Kassim Muhammed Kassim (APC) Akwanga West
Hon.Murtala Sodangi (APC) Nasarawa
As at press time, there were indications that the speaker was seated behind closed doors in a meeting with the pro sole Administrator lawmakers.