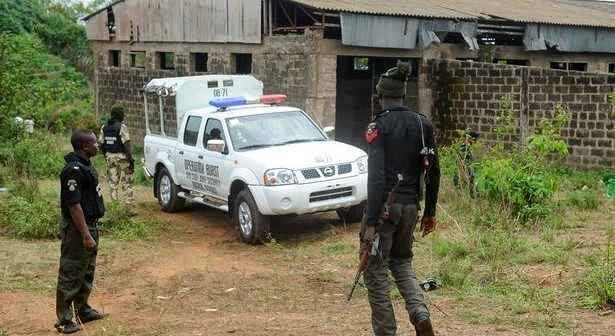 A yet to be identified soldier has stopped a combined team of Policemen from arresting a group of people who were unwinding at a restaurant at Ohanze Isiahia long Aba-Ikot Ekpene highway, Abia State.
Our correspondent learnt that the restaurants in the area are popular for their various brands of barbecued bush meat. Commuters to Akwa Ibom, Cross River and other areas usually stop at the area to unwind before continuing their journey.
247ureports.com gathered that Policemen who came in a private vehicle stormed the building housing three restaurants to effect the arrest of residents and travelers who usually throng the area , without knowing that a soldier was seated among them.
According to resident of the area who witnessed the incident, "The Policemen have been coming here to arrest people who patronize the restaurants here. It has become a business for the Police, causing people to be afraid to even come here to unwind. They came with an 18 -seater bus and arrested people two days ago. They came back today and started arresting people again. They had already taken 3 persons to their bus.  But one man on mufti was seating alone under this tree, asked them why they were harassing innocent people, but he brought out cap and put on his head, that  was when everybody knew he was a soldier and the Police left without a word.
He told 247ureports.com that the Soldier asked the Policemen, "Why are you arresting people who came back from work to take back one, one bottle? Una see any armed robber here?  Why are you harassing people? Look at the time now, it is 5pm. So, people can longer go out to drink and relax. This is not the way to do security job. You people must be careful."
One of the owners of the restaurants who gave her name as Madam Ogbonnaya said it had become a pastime for the Police to storm the restaurant and arrest people without cause.  "When they take them to the station, they are allowed to bail themselves with N10, 000 each. The situation has led to us to record losses because people are now afraid to patronize us for fear of police arrest. Like now, if the soldier man did not stop, they would have beaten up and arrested not less than 20 people for nothing."
She called on the State Commissioner of Police, Habila Joshak to call his men to order to stop the arbitrary arrest of innocent residents and travelers in the area. Sometimes, Some of the arrested people settle with the Police on the way on the station and freed.
Efforts to get the reaction of the Police Public Relations Officer, Abia State Command, DSP Udeviotu Onyeke, proved abortive as at the time of filing this report.