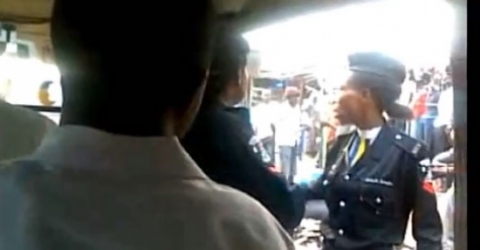 A team of Mobile Policemen numbering over ten has beaten up an operative of the Traffic Management Agency of Abia State, TMAAS, identified as Ifeanyi, along Ikot Ekpene road, Aba.
Isaac Boro Fought With Nigeria Against Biafra. Was He a Legend or A Betrayal To The People Of Niger Delta
Betrayal (69%, 414 Votes)
Legend (31%, 183 Votes)
Total Voters: 597
Loading ...
The MOPOL men inflicted severe injuries on the traffic official and tore his uniform, leaving him with a bloodied face even as his colleagues watched helplessly.
Trouble started for Ifeanyi when he approached the Policemen who were trying to fix their patrol van marked 'MOPOL 28' with registration number, NPF 2273 C, at the middle of the road, to make way for the traffic which had built up at the ever busy junction linking the Umuola road.
Eyewitnesses said one of the MOPOL men charged at him and punched him on the face while others joined in the attack, kicking and landing several slaps on him while another tore his uniform.
A TMAAS official who witnessed the incident told 247ureports.com that they were on their duty post at the Azuka junction when the MOPOL men whose patrol van appeared to have broken down, were trying to fix it at the middle of the road, when Ifeanyi appealed to them to push it to the walkway, but they attacked him. He alleged that some of the MOPOL men were drunk.
When our correspondent visited the area, a man who identified himself as a Policeman later took the bleeding Ifeanyi to the nearby Ogbor Hill Police Division while the MOPOL men were seen pushing the broken down van down the road.
Sympathizers who witnessed the incident appealed to the Police authorities in the state to fish the culprits and punish them to serve as a deterrent to others.
When contacted, Police Public Relations Officer, Abia State Command, DSP Ezekiel Onyeke, who said he was not aware of the incident, told Vanguard that he will get in touch with the DPO of Ogbor Hill Division.