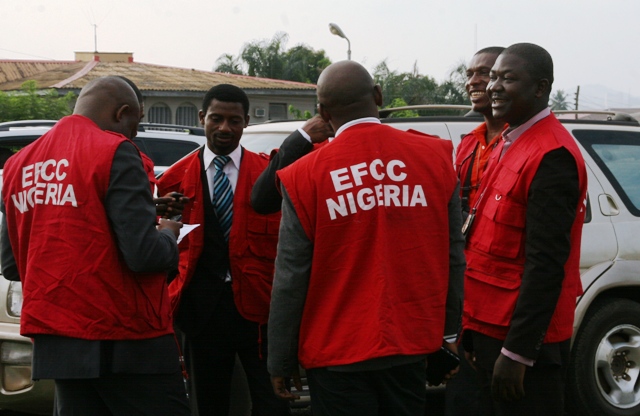 Introduction
The fashionable thing today under EFCC's revised criminal justice system is the curious trial by instalment, or instalmental trial. It can be defined as a clever (I will say not really ingenious), method employed by EFCC and the Federal Government, to keep accused persons perpetually in detention (captivity better), even before conviction, contrary to Section 35 (5) of the 1999 Constitution (as altered), which presumes a person innocent until he is proven guilty by being convicted after a trial carried out in accordance with the laws of the land.
How trial by instalment works
By this obnoxious method fast creeping in to our criminal justice lexicon, a suspect is charged with say, five counts of money laundry and breach of certain provisions of EFCC and Due Process Acts. Bail application is filed and argued between his lawyers and those of EFCC.
The judge listens to the argument and grants bail after imposing fulfilment of certain conditions, as permitted by our criminal justice system, which is accusatorial and not inquisitorial. The accused person fulfils the bail conditions after spending four to six more days in detention, while his family members and friends scout around for sureties agreeable to the Court. As soon as he steps out of EFCC or Kuje prisons where is he has been kept in a dungeon, he is promptly ambushed, arrested, abducted , whisked away and locked up again under the thin guise that there are fresh charges to be proffered against him in the future.
This unconstitutional modus operandi has seen ex NSA, Col. Sambo Dasuki, kept in detention for nearly three months, after three separate Courts had granted him bail. His team of lawyers, led by Chief J.B. Daudu, SAN, ex NBA president, complains that they do not even know his present whereabout, as no access is granted to his lawyers, friends and family members. This curious and obviously aberative method that reeks of unorthodoxy, unconstitutionality and intimidation of the judiciary, forced Justice Ishaq Bello, Chief Judge of the FCT, to query EFCC as to why it did not incorporate the "fresh" charge that Olisa Metuh (PDP National Secretary, the opposition party), tore his earlier statement made to EFCC, into the earlier charge already pending before Justice Okon Abang of the Federal High Court. So, Metuh is simultaneously facing separate charges before the Federal High Court and FCT High Court, all emanating from the same pedigree. This is known as "forum shopping". Of course, fulfilling the bail conditions before Justice Abang of the Federal High Court does not now automatically guarantee him freedom and liberty as the utter ambush before Justice Bello's court awaits him. So, the outcome is predictable. He will be in custody for a long time to come.
What is going on?
Compatriots, what exactly is going on? I am getting more and more worried and confused about our constitutional democracy, because the more I look and watch, the less I see of its assumed dividends in terms of our cherished rights, liberties, and freedoms. Tell me, what is going on here? Someone wake me up from this Professor Peller's abracadabra nightmare; or at best, a state of somnambulism. The last time I checked, all international instruments for fighting corruption, under the UNO, EU, AU, ECOWAS, etc, all guarantee liberties and freedoms of movement, fair trial, fair hearing and from cruel, inhuman and degrading treatment. See Articles 2 – 7 of the UNO International Human Rights. Ditto the Nigerian Constitution, our grundnorm. Did Metuh need to be hand cuffed? No. what was the point, when Dasuki who is said to have paid out all monies (still mere allegations), was not so handcuffed? In whose interest?
NOW THIS
A MINORITY GOVERNOR?
On 27th January, 2016, Governor Idris Wada of Kogi State, except the Kogi State Election Petition Tribunal directs otherwise, vacates his seat as Governor. Who steps in? APC (the ruling party) says it is Alh. Yahaya Adoza Bello, whose name was sent to INEC to complete the supplementary election held on the 5th of December, 2015, after the sudden death of Late Prince Abubakar Audu (my good friend, Prince of the Niger, of blessed memory). To be sure, Audu had coasted home to victory in the November 21, 2015, election, having beaten the sitting Governor, Idris Wada, black and blue, with an overwhelming majority of 240,857 votes. But INEC in its wisdom had declared the election inconclusive. Its word on such matters is final, even if faulty and erroneous. Sections 2, 27 and 53 of the Electoral Act, 2011, confer that power to err on INEC.
However, there is a problem here. Bello had announced Hon Abiodun Faleke, who had run with Audu, who died, before the inconclusive votes were announced by INEC, as his running mate. Faleke says no. He believes he ought naturally to step in to the shoes of Audu as Governor, having run with him on an inseparable joint ticket. He equally went to court and also announced Mohammed Abubakar Audu (son and scion of the late prince), as his running mate. Bello in desperation and exasperation has chosen Simon Achuba, as his Deputy Governor of Kogi State. Achuba is a person who never participated in any of the stages of the election, whether primaries, nominations, contest, etc. How does he fit in? How will he surmount Section 141 of the Electoral Act which provides that: "an election tribunal or court shall not under any circumstance declare any person a winner at an election in which such a person has not fully participated in all the stages of the said election."          
How will Achuba and APC cross the hurdle of CPC & Anor v. Ombugadu & Anor (2013) LPELR -21007 (SC), which expressly overuled the well used case of Amaechi v. INEC (2008) 5 NWLR (Pt 1080) 227, where it was held that: "Contrary to the decision of this Court in Amaechi's case, the implication of Section 141 of the Electoral Act, 2010 (as amended), is that while a candidate at an election must be sponsored by a political party, the candidate who stands to win or lose the election is the candidate and not the political party that sponsored him. In other words, parties do not contest, win or lose election directly; they do so by the candidates they sponsored".
This had earlier been emphasized by Justice N.S. Ngwuta, in CPC vs. INEC (2011) 18 NWLR (part 1279) 493, when he held that one cannot organize an election between a political party and a human being; that an election is contested and won by human beings who have flesh and blood, not by political parties and that the only role of a political party in an election is to sponsor a candidate.
POSERS
Can Bello be governor with just a little over 6,000 votes, which he garnered at the December 5, supplementary election, having not participated with Prince Audu in the substantive November 21, 2015, election where Audu garnered 240,857 votes (on a joint ticket with Faleke)? Would he have satisfied Section 179(1) of the Constitution which provides:
"(1) A candidate for an election to the office of Governor of a State shall be deemed to have been duly elected to such office where, being the only candidate nominated for the election-
he has a majority of YES votes over NO votes cast at the election; and
he has not less than one-quarter of the votes cast at the election in each of at least two-thirds of all the local government areas in the State, but where the only candidate fails to be elected in accordance with this subsection, then there shall be fresh nominations."?
Could Faleke himself have stepped into Audu's shoes without participating in the supplementary election ordered by INEC since Audu died before the exercise was concluded, contrary to Section 181 (1) of the Constitution, which provides that he could only step in as Governor, if Audu had been declared winner before his death?
Could Audu's votes have been warehoused and quarantined off for inheritance by Bello (as in Chieftaincy primogeniture, or Will inheritance)? Will his mere 6,000 votes be superior to Audu's 240,857 votes and Governor Wada's 204,877 votes?
The next few weeks will be quite interesting as to how the tribunal, Court of Appeal and Supreme Court resolve this knotty constitutional imbroglio and takes us out of its glaring conundrum.
AND THIS
THE JUDICIARY UNDER INTIMIDATION
It is now crystal clear that the Judiciary is being brow-beaten, intimidated and emasculated with the new threat by the Federal Government to try and jail judges suspected to have been involved in corruption. This, in addition to many months salary arrears still unpaid. Where is the place of constitutionally guaranteed disciplinary safe guards, such as the NJC? Ha!