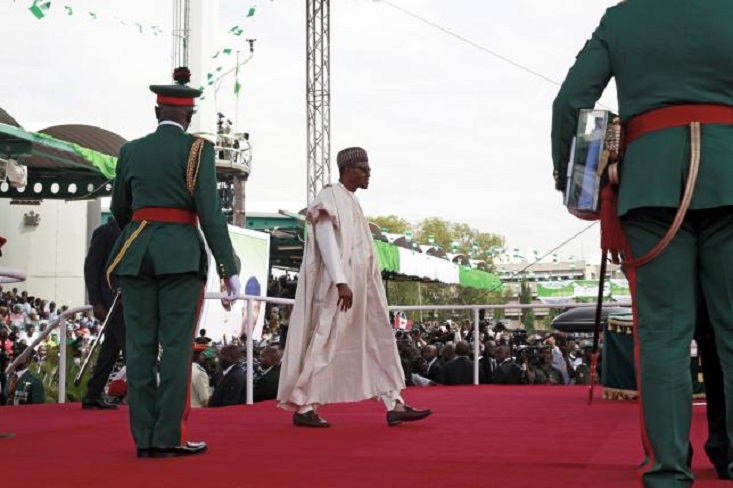 The greatest tragedy that can befall an individual, society or nation is the inability to change from ways of doing things that are decisively wrong. Indeed, nations and societies founded on strict ideologies at great cost in human lives have had course to change when it became obvious they were travelling on a wrong route. China became a communist country through an ideological revolution that consumed millions of lives. Decades later when it became obvious the communist ideology was not serving their needs, China reformed, moved from communism to capitalism and is consequently now the 2nd richest nation in the world. Likewise the Soviet Union was premised on one of the most powerful ideological empires the world has ever known. Anchored on its doctrine of communism, the ideological tentacle of the Soviet Union spread across all continents and was at its peak in conflict with the capitalist west in what was then known as the "cold war." Yet decades later what was once the Soviet Union disintegrated without a shot being fired and all the nations including Russia that previously constituted the Soviet Union have all reformed and adopted capitalist market systems in place of communism.
South Africa needs no introduction; it used to run a notoriously racially divided Apartheid system that consigned the indigenous blacks to exclusion and discrimination on the basis of a doctrine and ideology of racial superiority. The system was sustained at great cost in human lives and an ideological political system that justified its denigration of the black race, yet decades later the Apartheid system crumbled and South Africa transformed into an all racial democratic system with justice and equality as a defining attribute of its post Apartheid constitution. The example of these reformed nations demonstrates that even societies backed with military, political, economic, social and ideological premises for a system that was often cultivated at great cost in human lives found the need against all odds to change and transform when it became obvious that their systems had certain deficiencies.
If thus nations with formidable military, political and ideological systems can change why can't an individual?  Therein lies the paradox of President Muhammadu Buhari who tragically does not seem to have changed from his much criticised style, mindset and dictatorial proclivities as a military head of state in the 80's. Buhari became Nigeria's head of state on the 31st of December 1983 following the coup that ousted the then President Shehu Shagari from office. His administration was noted for its maximum dictatorship and human rights violations that included the extra-judicial detention of several politicians even after they had been cleared of any corrupt practices, the execution of drug offenders with a retroactive decree that was enacted long after the crime was committed, flogging of women wearing trousers  and the infamous decree 4  which was a draconian and repressive press law with which scores of journalists were detained without trial throughout his administration. Amongst other human rights violations and brutality, his regime was also noted for its double standards in dealing with corruption cases particularly the 34 suitcases saga and for its disregard for Nigeria's ethno-religious diversity and public opinion.
The monumental excesses of the regime made his administration very unpopular and as it soon emerged, it turned out that Buhari had also extended his dictatorial toga to his military colleagues in the supreme military council. With his removal in August 1985, the military amongst their reasons for his removal informed a bewildered but not surprised nation that "the principles of discussions, consultations and cooperation which should have guided the decision making process in the supreme military council and federal executive council was roundly disregarded by Buhari. Furthermore, he was too rigid and uncompromising in his attitudes to issues of national significance. Efforts to make him understand that a diverse polity like Nigeria required recognition and appreciation of differences in both cultural and individual perceptions only served to aggravate these attitudes." The military thus rested their fundamental premise for buhari's removal on his dictatorial proclivity, intransigence and disregard for Nigeria's diversity and the rest as they say is history. By 1999 had Nigeria returned to democratic rule and from 2003, 2007 to 2011 Buhari had become a serial candidate who was roundly rejected in elections outside the core north—haunted as it was by his past of dictatorship and bigotry which the nation was always reminded of, and which no less a person than the nobel laureate Professor Wole Soyinka never wasted anytime in amplifying.
But, with the 2015 electoral cycle something changed except Buhari himself. With an alliance that paired his party with the erstwhile ACN led by Bola Tinubu and some disgruntled decampees from the PDP camp, he benefitted from a nationwide coalition of political forces for the first time. Realising that his dictatorial past, image and antecedents remained a problem, they set about rebranding him. Buhari himself promised to be a democrat who will abide by the constitution and rule of law. After all said and done he won on a mantra of change, yet just 8 months into his regime, it has become clear that Buhari is neither a democrat nor a changed man. His recent media chat and justification of disregard of court orders in regards to Dasuki and Nnamdi Kanu and massacres in regards to El-zakzaky and the Shiites most importantly established Nigeria's incipient return to dictatorship. But long before his media chat, his body language had already clearly established a pattern of dictatorship and bigotry. He was already running a government of exclusion and he had in total disregard to public opinion taken more than 6 months to constitute a cabinet. The DSS turned "Gestapo" was already running riot with invasions of government premises in various states, extra-judicial detentions etc. The army was killing at will with the much reported Onitsha and Shiite massacres without any consequence, while the EFCC in the guise of fighting corruption was busy hounding opposition party members including the unprecedented arrest and detention  for several days running of Olisah Metuh,  the opposition party spokesman in an ostensible  bid to  create a one party state.
The bottom-line:  Buhari never learnt any lesson from his much criticised and rejected dictatorial past nor reformed in line with the modern times and the tenets of democracy. With his return to power, Nigeria has willy-nilly returned to tyranny and dictatorship not in any way different from what obtained between 1983 and 1985 when he held sway as a military despot. It is even more tragic that having returned to power through a constitutional democracy and sworn an oath of office which fundamentally commits him to respect, defend and discharge his duties according to the constitution of the federal republic of Nigeria and the rule of law, he has opted to mount a coup against the same constitution he swore an oath to protect by choosing to disregard "section 287 of the Nigerian constitution, which specifically mandates  that decisions of the supreme court, Court of Appeal, Federal High courts, High court and all other courts established by this  constitution shall be enforced in all parts of the federation by all authorities", this is in addition to earlier disregarding section 138 of the Nigerian constitution which forbids a Nigerian president from  holding any other executive position by arbitrarily appointing himself the substantive minister of petroleum.
The question then arises; why does the administration bother taking anyone to court and why even have courts if court judgments will not be respected? Does Buhari's change mean disregarding the constitution and rule of law? In the guise of fighting corruption do you fight illegality with illegality or a crime with another crime?  Can two wrongs make a right? Why would Buhari expect Nigerians to be law abiding when he as president disregards the Nigerian constitution and is consequently  not law abiding? What happens if all Nigerians going by Buhari's example choose to disobey all laws and unleash total anarchy in the land? There is something tragically wrong with an individual who refuses to learn, change and adapt with the passage of time and new experiences in spite of a compelling need to do so. Buhari's greatest enemy is his inability to change and in time it's going to be his ultimate undoing.
–
Lawrence Chinedu Nwobu
Email: lawrencenwobu@gmail.com