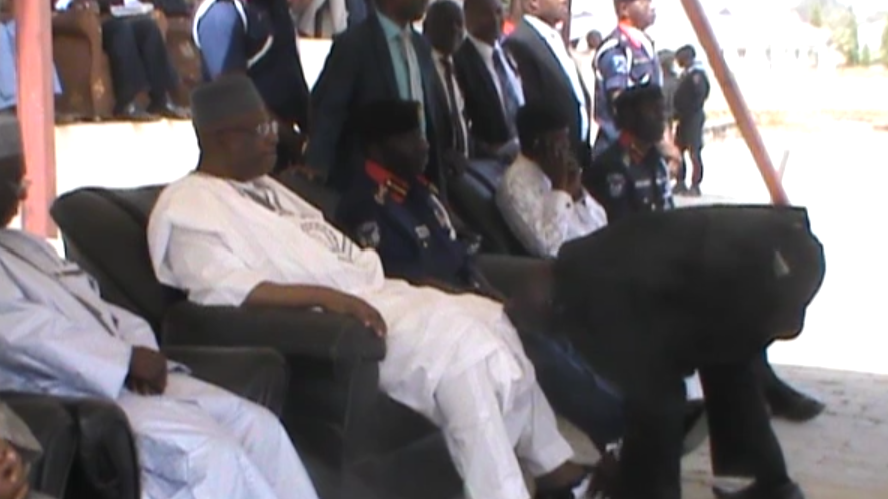 Recently, the Department of State Security Services (DSS) warned Nigerians against falling victim to the activities of fraudsters who have devised sophisticated means of stripping them off their hard-earned money through blackmailing.
According to news reports, the fraudsters have developed a computer animation system which they use to strip people off their clothes among other techniques in their employ! After they might have achieved this, they will then threaten to upload the naked picture of their victim on the internet if he or she refuses to pay certain amount of money demanded.
This revelation was made public recently by the Director of the Department of State Services (DSS) in the Federal Capital Territory (FCT), Mr. Abubakar Babuche while parading two suspected fraudsters caught in this very act. His word: "This is to inform the general public about the activities of criminal syndicates' style of operation which include among others, the use of computer animation to strip off their victims and put their nude pictures on Facebok and other social media platforms. The gang calls up their potential victims and orders them to pay certain amount of money to a given account number or have their personal pictures edited and posted nude on the internet."
While the DSS exposed their pictorial tricks, these groups ebbed the strategy and moved to using video in carrying out their despicable venture with the Minister of Interior being their first victim!
However, not too long after the statement was issued by the DSS, a video is now circulating online showing the Honorable Minister of Interior, Retired Lieutenant General Abdurrahman Dambazau seating in a public function while a young man in black suit was polishing his shoes while he was paying serious attention to the event he came for. According to one version of the report I came across, it reads: "A video sent to PREMIUM TIMES by one of its readers showed the minister dressed in white gown, relaxing on a couch with his legs stretched out. The SSS Officer appeared from the other sides with a handkerchief in his right hand and a holstered service pistol protruding from his jacket."
The story continues, "He was shown stooping before the Minister using his left hand to lift Mr. Dambazau's right leg, slightly above the floor to clean his loafers." What a cranky story?
While this latest attempt is part of the clandestine conspiracy designed to malign, denigrate, discredit, demonize and 'murder' the goodwill and reputation built by General Dambazau over the years, the disheartening aspect is the fact that some sections of the mainstream media have crassingly and bohemianingly lend themselves as megaphone to these agents of darkness whose only stock-in-trade is pedestrian blackmail.
Instead of demonstrating in words and in substance to the world that the media is undoubtedly the fourth estate of the realm which means the fourth pillar on which the entire state apparatus rests on- in the cause of advancing democratic odyssey, some sections of the press knowingly or unknowingly have constituted themselves as Trojan Horse lending supports to slapdash quacks who hide under gonzo journalism to give the noble profession a bad name.
For the records, gonzo journalism is the type of journalism that is written without any claim to objectivity and balance. It is the act of reporting emotions or feelings in contrast to traditional journalism which relies on facts and quotations that can be independently verified by third parties. Gonzo journalism disregards the strictly-edited news content and editorial policy that guides the activities of the mainstream media. It dwells more on personal approach to news as against the tradition set by conventional media. Practitioners of this type of journalism believe that the personality in a piece is as important as the event on which the write-up dwells on. To achieve its predetermined objective, practitioners use sarcasm, humor, exaggeration and profanity to drive home their point without recourse to the basic ethics of journalism.
The question is should we continue like this? Should we continue turning innocent people in to victims? For how long must the feverish bird tremble in silence before their keepers? The truth is that justice is distorted when the victim is made to pay for the conduct of the accused.
We cannot claim to be fighting for justice and the entrenchment of democratic institutions in the country when we carelessly allow the very same people we are supposed to protect and defend to be crushed in the cause of executing our constitutionally mandated task. While no freedom is absolute, it however pertinent that we exercise such freedom with great responsibility!
The point I'm trying to make is that we should always allow morality which is the grease that enables every society to function well to guild our professional conducts. People cannot simply live and act as they wish in an emerging society like ours because doing so can be likened to a city driver who drives around with no regard to traffic rules. Under such situation, one must not be a rocket scientist to know that his action would only lead to chaos whose potential victim is unknown.
Hence, for the 21st Century media practitioners to outlast the numerous challenges posed by the activities of quacks who hide under the Freedom of Information Act to scandalize people, we should always get our scoops verified before publishing because sometimes an injury caused to an innocent victim while trying to be ahead of competitors may leave lasting scars in their hearts!
As for those who have drawn a line of battle with the Buhari administration by demonizing anybody who openly identifies with Mr. President, I challenge them to unmask themselves by fighting directly instead of hiding under gonzo journalism to fight because it is an act of cowardice.
–
Comrade Edwin Uhara is a Journalist and Public Affairs Commentator.
He writes from Abuja.
07065862479 or edwinuhara@rocketmail.com