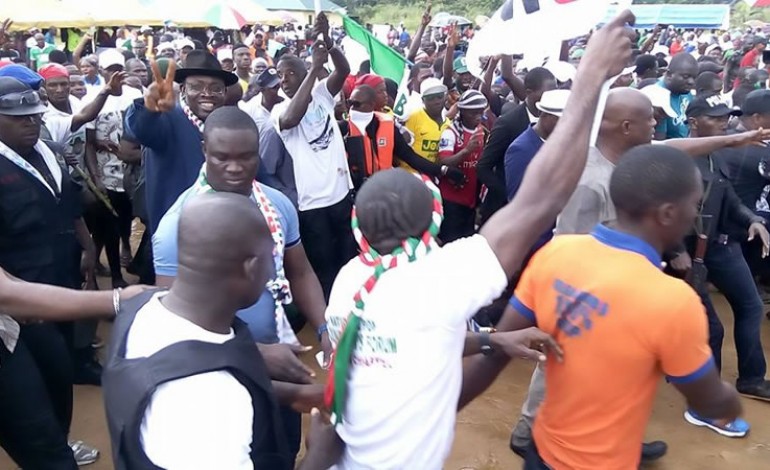 …opens hotlines, website for tracking movement of election materials
With less than five days to the supplementary election scheduled for 
January 9 2016

, 
Bayelsa State Governor, Henry Seriake Dickson
on Monday
in Yenagoa raised the alarm over plans  by the All Progressives Congress (APC), to unleash violence on the people of Southern Ijaw LGA.
The violence, according to him, was to rig the election for which the people of Southern Ijaw people have remained resolute to vote massively for the Peoples Democratic Party (PDP), despite abnormalities that culminated in the cancellation of the election by the Independent National Electoral Commission (INEC).
Dickson at crowded world press conference, aired live on major Radio and TV stations in the State and across the country restated his call on all federal institutions that have a role to play in the election to be non-partisan "in order not to undermine the integrity of the electoral process and the nation's fledging democracy."
The press conference was to explain to Bayelsans the state of affairs leading to the coming election in Southern Ijaw and the 101 units spread across six LGAs.
He said, "The people of Southern Ijaw are waiting eagerly and more determined to cast their ballot. The only thing we are asking is that those institutions that have the duty to make it possible for the people of the area to cast their votes should please, in the interest of our nation and the security and stability of our state and this region and in the interest of our nation's fledging democracy, do their utmost best so that the people can join the rest of their brothers and sisters in this state by casting their votes in a free, fair and credible manner."
Dickson condemned the manipulation of critical national institutions by political leaders to serve their personal ambition, stressing that such acts could be seen as "a deliberate subversion of the country's security."
"I want to remind the leaders of our nation; those heading strategic national institutions not to use them to promote either a partisan agenda of a political party or to advance the political aspirations of anybody, not even me because I don't need anybody to kill or maim for me to achieve my political ambition. I am a man of peace and everybody knows our track records on peace and security", he stated.
While describing his brand of politics as non-violent, Dickson also called on the candidate of the APC, Timipre Sylva, to join in the ongoing efforts aimed at providing a conducive atmosphere for a free, fair and credible election.
As part of the state government's efforts at ensuring a hitch-free poll, Governor Dickson urged the people to monitor the process by contacting the election hotlines from 
January 8
to 9
on the movement of sensitive materials and ad hoc staff of INEC.