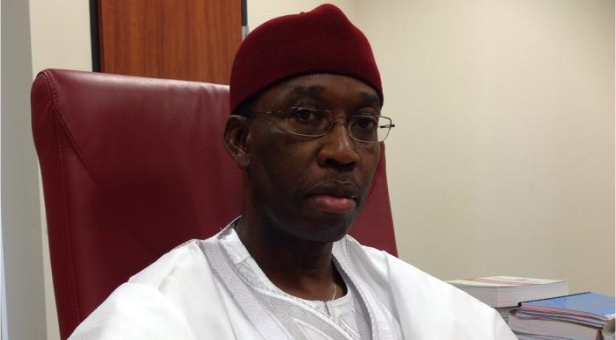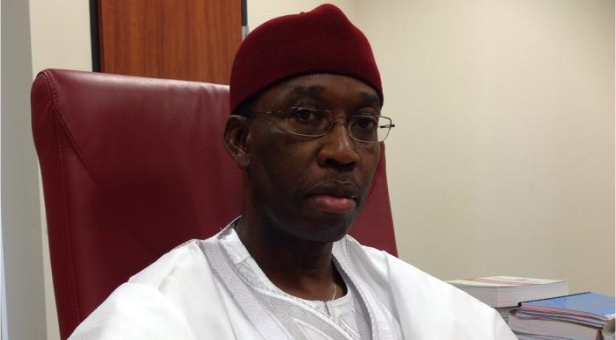 … Seeks Cooperation of Legislature, Deltans To Succeed
By Amos Igbebe
Delta State Governor, Senator Dr Ifeanyi Okowa has said his administration inherited a debt profile of N637.22 billion, with a call on all Deltans to be ready to make sacrifices necessary to put the state on the path of economic recovery. Giving a breakdown of the debt profile, Okowa disclosed that N98.62 billion is as a result of Revenue Bond and indebtedness to commercial banks, while outstanding contractual obligations stood at N538, 601,962,421.50.
Speaking on Thursday while addressing members of the State House Of Assembly in Asaba on the financial status of the state, Governor Okowa said that it became necessary to let the lawmakers know the state of affairs in order "to put the Legislature on the same page with the Executive, so that we can think together, plan together, and tighten our belts going forward."
Exuding confidence Okowa asserted that "I see more opportunities in our current economic predicament than the threats it poses," adding: "We must muster the resolve and political will to boldly and decisively – confront the challenges that we face, right the ship of our State and lay a solid foundation of prosperity both now and for future generation of Deltans. It won't be easy. It is not supposed to be easy. But there is no gain without pain, no prize without a price.
"A good place to start is for us to reject the old ways of doing business. First, beginning with me and this honourable House, we must be ready to make the necessary sacrifices to reduce the cost of governance. Secondly, the endless turf battles and approach to legislative action would need to give way to civility and respect for each arm of government. Thirdly, the House must make laws that protect and promote the interest of the State and our people. Fourthly, we must act with the sense of urgency that our current situation demands, and navigate the ship of state aright."
The Governor told the House the 2015 budget of N409b as passed "has to be reviewed" because it "is no longer realistic in the wake of current realities, which clearly show that our expected revenue is now far below what was projected in view of the declining earnings from FAAC occasioned by the crash in oil prices."
He assured the House that the administration is "frantically working at putting the necessary machinery in place to boost our IGR, and steps will be urgently taken to plug the loopholes in our revenue collection process. In our land resource management, action will be taken to re-certify Certificates of Occupancy (C of O) beginning with our urban settlements, while MDAs will be made more accountable in the generation of revenue."
He called for a cordial relationship among the different arms of government, reminding the Legislature of their constitutional responsibility "to make make laws for the peace, order, and good governance of the State." Governor Okowa promised to build a "model worthy of emulation" in Executive-Legislature based on his experience as a former member of the Senate.
Dr Okowa appealed for patience and understanding regarding the suspension of the civil service recruitment. Admitting that it was a painful and difficult decision to make, he noted that "we came to this inescapable decision because the entire recruitment exercise was riddled with fraud and corruption as it violated established Civil Service Rules and Regulations. More so, it was not logical that a State struggling to meet its payroll obligation should employ more persons."
While sympathising with those affected by the exercise, he urged the house members to appeal to their constituents who were affected by the exercise for understanding because "we do not mean them any harm" and "you have my highest assurances that in the long term this decision is for the benefit of everybody. Sometimes things have to get worse before they can get better."
Governor Okowa enjoined the house members to be mindful of their place in history.
"The focus of responsible leadership is not always about the next election; it is about the next generation," he declared. "We would have written our names in gold if in the next four years Delta State can boast of a functioning public school system that ensures that the children of the poor are provided quality education, accessible and affordable primary and secondary healthcare system, a flourishing agricultural and agri-business sector, and the proliferation of Micro, Small, and Medium Scale Enterprises (that ensure our teeming youth population is productively engaged), well planned and environmentally friendly cities, and integrated rural development."
In a brief remark, the Majority Leader of the House of Assembly, Hon. Tim Owhofere, member representing Isoko North, thanked the governor for the briefing  and promised that the legislature would partner with other arms of government to deliver the dividends of democracy to the people