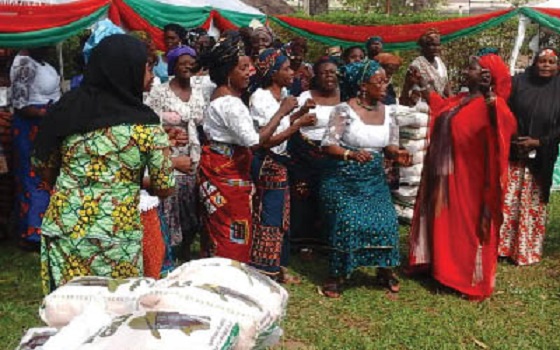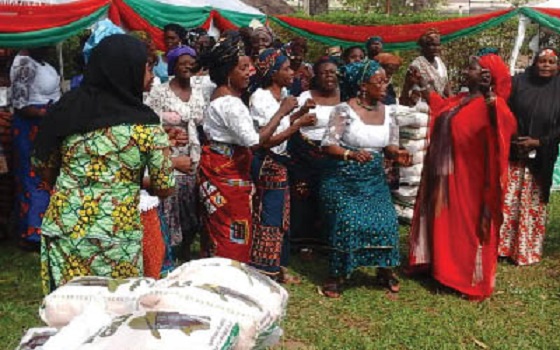 Gift Emmanuel, Abuja
THE Rock of Ages Empowerment Found has empowered over 1,300 widows in Abuja with equipment and cash to enable them set up their small scale businesses.
They were also provided with free medical services at the National Centre for Women Development, Abuja by the medical team of the Foundation.
Speaking at a ceremony marking the 2015 International Widows Day (IWD), Founder and Executive Director of the Foundation, Evangelist Ignatius Newman Ezeigbo, presented the materials and millions of Naira disbursed  to the beneficiaries to ease their plight.
The materials and equipment include: Gari processing items-grinding machines, big frying pans with long spoons- big cooking pots, clothing materials, and food items among others.
Ezeigbo, explained that all the 1,300 widows were initially trained in various vocational skills acquisition and that the materials and equipment presented to them with a token of N20,000 each, was to enable them establishment their small businesses in line with the trade they learnt.
While calling on the National Assembly to enact law that would protect the rights of the widows in Nigeria, Ezeigbo said, "the inhuman socio-cultural, economic, religious and other harmful that widows are subjected to, require our individual attention".
He decried practice in some communities were widows were forced to drink the water used in washing the body of their late husband as a proof of their innocence in their husband's death.
He added many of the widows have recounted to him their ordeals in the hands of the family members of their late husband.
"In some cases, they were stripped of their husband's property and even thrown out of their family houses by their brothers-in-law, who are only interested in taking whatever the widow's husband left," he said.
The Foundation also presented free education scholarships to 85 primary school pupils and 50 secondary school indigent children of the widows.
He said, "Since the Foundation came into existence about N70 million had been spent and more than 3000 widows have so far been empowered since 2012".
One of the beneficiaries, Mrs Blessing Chukwu said she was thankful to the Foundation for putting smile once again in her face and may others widows like her.