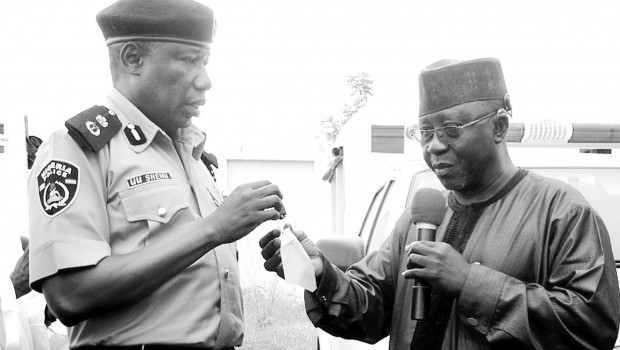 A former Minister of Information and APGA governorship candidate in Nasarawa State, Labaran Maku has debunked rumors making the rounds that he stepped down for the PDP candidate, Yusuf Agabi in the Saturday's gubernatorial polls.
Mr. Maku also called for the immediate redeployment of Nasarawa State Resident Electoral Commissioner, Abdullahi Umar Danyaya, to give room for a free and fair governorship polls.
He said the call had become imperative, alleging that plans to rig the April 11 elections were hatched in collaboration with some top staff of Independent National Electoral Commission, INEC, in the state.
Mr. Maku spoke at a press conference in Lafia, the state capital.
He said the PDP was jittery of imminent defeat by APGA in the election, which informed why the party set out to spread lies in order to hoodwink unsuspecting supporters of APGA into voting for the PDP.
Mr. Maku told his teeming supporters that he was still in the race on the platform of APGA and was confident of victory in the election.
He also accused the Nasarawa State Government of bribing all Returning Officers to the tune of N100,000 per head to return Governor Umaru Al-Makura.
Consequently, he urged heads ofl security agencies in the country to, as a matter of urgency, stop their men in Nasarawa from engaging in the intended electoral fraud and malpractices orchestrated by the All Progressives Congress, APC.
"We are calling on the Nigerian Army to remain vigilant as APC intends to use fake soldiers forSaturday's election in all APGA strongholds, even as election supervisors have been detailed to delay release of election materials in APGA-dominated local government areas," he said.
The former Information Minister said the APC in collusion with INEC officials planned to deny some electoral materials to APGA stronghold while also orchestrating the disenfranchisement of internally displaced persons in Obi, Lafia and Keana Local Government Areas.
He also disclosed plots to intimidate voters on the election days by thugs and fake soldiers to coerce them into voting for the APC.
Mr. Maku however urged his supporters not to be intimidated but to stand firm and vote according to their conscience while also making concerted efforts to defend their votes.
Zakari Edego
Director Publicity
Maku Campaign Organisation