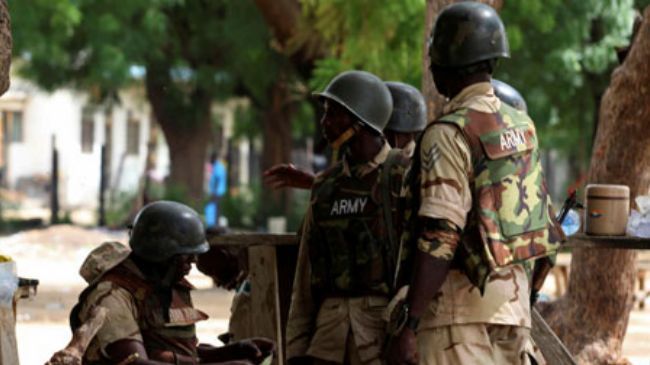 The search by horny testosterone driven military men in Yola for the attention of a young girl resulted in bloody pandemonium at the Jimeta Shopping complex in Adamawa state on Friday – causing many businesses to close shop before the end of business day.
According to information available to 247ureports.com, some young men of the Nigerian military had stormed the shopping complex – headed for one of the shops whose owner they alleged was hiding the sister to one of them.
The military boys who was gathered to have graduated recently from the army depot in Zaria were told that the said girl was not with whom they suspected she was with. The military boys left only to turn up with more of their soldier friends in an unmarked military vehicle.
Immediately they arrived, they opened trouble. Using their belts, they started beating up people. Amid the ruckus, the chairman of the civilian Joint Task force Bako Ali Kurna intervened. Bako invited the soldiers for discussion since he feared that the commotion could lead to something unpleasant and/or a breakdown of law and order.
But to the surprise and shock of the spectators, the soldiers fired four shots at the chairman of the Civilian JTF – missing the target despite their closeness to him. Sensing danger, the soldiers led by a lieutenant took to their heels shooting sporadically in the air as they fled.
During the shooting, an inspector of police who was at the scene was hit by a pellet on the side of his nose and is now being treated at a hospital.
Also, in the course of trying to run away, one of the soldiers snatched the phone of the civilian JTF who was trying to make a call to the Brigade Commander.
Confirming the incident to 247ureports.com, chairman of the Task force Baba Ali Kurna indicated that he had lodged a formal complaint at the Directorate of state security and the commander of the 23rd Brigade. According to him, two of the soldiers were later picked up at a drinking joint not far from the market adding that normalcy has returned to the market.
As at the time of going to press, people were seen going about their normal business.
The army authorities of the 23rd Armoured Brigade, Yola stated that full investigations are in progress.
In another development, there was confusion at Vunoklang in Girei Local Government Area of Adamawa state where security men were said to have pursued a suspected Boko Haram member. In the course of the pursuit, there were shootings while people ran in different directions for dear life.
The suspect is said to have been arrested and taken away by the security men said to be in Mufti.