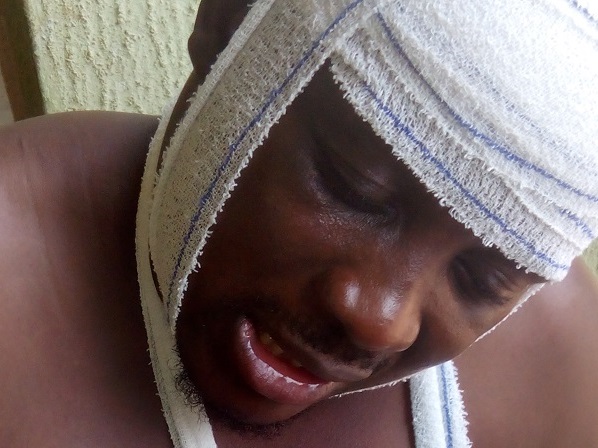 –
My name is GREG OKEY NWADIKE. I am from Uzoubi-Umuna in Orlu LGA of Imo state, Nigeria, but based in Abuja the FCT. I am a media practitioner and publisher of the magazine – Profile International.
On Monday, the 26th of January, 2015 at around 6.00pm, I was driving down from Nwangele Local Government Area to Owerri through the Okigwe Road having attended a rally of a senator of that zone which I covered for use in my publication. I was actually rushing to meet up with the Etisalat Office on Wetheral Road to fix my internet modem. Getting to the IMSU junction, and being conscious of the traffic situation usually on RockView/Government House Roundabout of that road, I then elected to pack my car somewhere around the Imo state Tax office. I chattered a tricycle to take me to Wetheral Road. But just before the Rochas Foundation Plaza opposite the Nigerian Prisons, we ran into angry and rampaging youths who I later realized were Imo students as they were obstructing traffic, destroying chandeliers and some street lighting equipment on the road. Others were chanting songs against the APC government in the state, others chanting for the governor while others against a student they described as the SA Students Affairs. Others were pelting on the billboard of the governor while others were throwing stones into the compound of the Rochas Foundation.
As a curious news hunter, I carefully positioned self and picked some clips with my handset with the sole intent a journalist usually has, and which is breaking news. I interviewed some of the youths and they spoke to me. I rounded off and left the scene. I came back later after the rioters had been dispersed to speak to the Okorocha's camp so as to develop a balanced story in line with the ethics of the profession. But on getting just around the bus stop opposite the Rockview Hotel, I noticed a middle aged man with hoary hairs inside the Rochas Foundation plaza pointing at me and ordering some thugs to get me.
These men numbering over 25 men came after me and pounced all over me with blows and kicks. The beating became so intense and I fell down screaming to them that I was merely doing my work as a journalist. They later dragged me into the Rochas Foundation building on the orders of another young man whom I later understood was the Commissioner for Lands and Urban Development and son in-law to the Governor, Mr. Uche Nwosu. This was even as the beatings continued in the building. One of the thugs went inside one of the rooms and came out with a weapon. He smashed the object on my head and gripped me round the neck from my back threatening to cut my artery and allowed me die through bleeding. At this point, the Commissioner for Youth and Sports came down to see who it was, but on recognizing me as his school mate in the secondary school simply enquired what was my offence. I narrated to him and he ordered the guy hitting me to stop that. He walked away and the beating continued.
Mr. Uche Nwosu slapped me on the face and told me that I would rot in jail for leading students to attack the government. Persistently, I informed them that I was not a student but a journalist on duty. They enquired of my ID card which I presented. They observed that my driver's license had the address of the National Assembly Press Corps and the story quickly changed that it was Rt. Hon. Emeka Ihedioha, the PDP governorship candidate that paid me to mobilize infiltrators into the students group.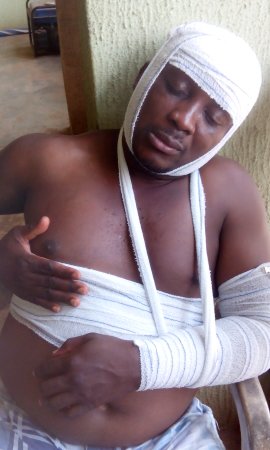 At this point, and while I was still bleeding from my mouth and nose, the Commissioner for Information walked in with team of journalists for my parading. When I was dragged up to face the team, many of them recognized me and screamed out my name. They quickly positioned their recorders to take my voice, but on realizing that the story may no longer favour them decided to prevent them from taking my side. They succeeded in driving them away even as the journalists protested and insisting they knew me. Their protest continued outside but later died down. Few minutes later, the Information Commissioner came back to me with two cameramen; a still photographer and a video man and simply said to them "This one is anti-Rochas. Look at him, he is from TAN" It was at this stage that it dawned on me that I was wearing a T-Shirt with the branded tag "TRANSFORMATION AMBASSADOR" on it. The cloth was given to me by a friend few weeks back and has been in my car ever since. I merely changed into the cloth as I was packing my car that evening because of the dirt on the one on me earlier that day. The crew recorded me and I told them that I was a journalist. I denied the Commissioner's claim that I had a meeting that morning somewhere in Owerri with Prof. Viola Onwuliri, the Minister for Education and Chief Emeka Ihedioha where I was paid to mobilize students against a governor that has been given them free education. I also denied that I was brought into the state by TAN to be doing a hatchet job for the group against the Okorocha's government. I accepted that as a true Nigerian I believe in the TRANSFORMATION ideology which is the same thing as the CHANGE ideology of the APC. At this stage, the Commissioner ordered them to stop the interview with me. He took them to a corner and granted them his own fabricated lies aimed at pleasing his master. There were so many other allegations leveled against me and the persons of Prof. Onwuliri and Chief Ihedioha which were all lies. I wondered where and how I got all the influences they were dressing me with. On my parents' grave I swear that I had never met either by proxy or one-on-one with any of these respected Imo citizens. I don't even consider myself fit even in the years ahead.
Few minutes before 10.00pm, the Police was brought in to take me along with a little boy who claimed he was a student of Alvan Ikoku Federal College of Education to the State's CID, CP Monitoring Unit with the order "no one must see him" from Mr. Uche Nwosu. I was dumped into a windowless 12×13 room cell apartment with 67 occupants at that night in their worst dehumanized manner. The place would be better called an oven; a pigs' haven. I was not allowed to contact anybody as my handsets were all confiscated by the Governor's aides. I was equally not allowed to use any officer's phone. Foods were not provided for the inmates and no charges were readily available against me till Friday, the 30th of January, 2015 at around 3.00pm that the Commander hurriedly came around and ordered them to bring out "the TAN boy" and let him go. I was called out and quickly asked to get someone to take me on bail after spending four days in a dungeon against my fundamental Human Rights.
I sustained some cuts on my body with a sprain on one of my arms. My head and face are swollen. My eyes have been painful and blood soaked with my lips cut. My dental set was seriously affected and the jaw bone behind my left ear persistently painful. I get sharp internal pinch on my right ribs a little under my breast. My urine has been reddish and I have been vomiting blood. I have just been placed on emergency treatment in a private hospital.
It is equally necessary to alert the public through this medium that I was given as the only condition for my being released and staying alive to accept to work for the APC and Governor Rochas Okorocha in the coming elections. This negotiation was ongoing with a private correspondent before the superior intervention to my release. From the stories of the inmates I met in the cell, I have no option at this stage also than to alert the public now that I am still breathing of where to direct my search should anything befall me in the near future.
My humble take is that no individual or group of individuals should be subjugated or subjected to any forceful association. To my humble pen-professionals, an injustice to one is an injustice to all. I pray you not to ignore this. Thuggery and violence must be stopped as part of weapons of winning elections.
Thank you.