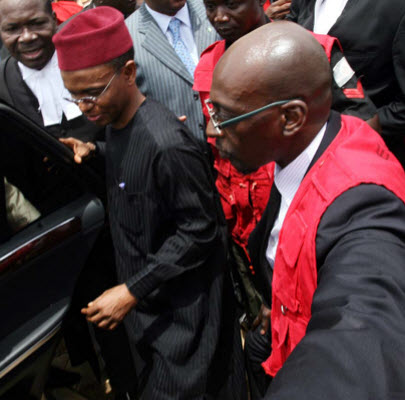 It was drama today at the 2015 Afan Festival held at Kagoro when a visibly frustrated former FCT Minister and APC governorship candidate in Kaduna State, Mallam Nasir Ahmed El-Rufa'i sneaked out of the event midway.
The former minister was obviously reacting to the overwhelming show of support showered on incumbent Governor Mukhtar Ramalan Yero by the people of Kagoro and Southern Kaduna.
The APC flag bearer's supporters were eclipsed by a massive support mounted by PDP stalwarts in the zone.
El-Rufa'i had disregarded protocol on arrival at the event long after the Vice President, Arc. Namadi Sambo and all other top dignitaries were already seated. The former minister refused to acknowledge the presence of other guests and the host, Chief of Kagoro, Mr. Ufuwai Bonet.
El-Rufa'i and a handful of his supporters were seen driving out of the venue of the event long before the Chief of Kagoro delivered his speech. His and arrival and exit were both unannounced.
The event continued as the people of Kagoro showered encomiums on the incumbent Governor who they thanked for making it possible for the event to resume in January 2014 after being suspended in 2012 and 2014 following security concerns.
Chief of Kagoro, Ufuwai Bonet said Governor Yero's peace initiative made it possible for the age long event to resume in January 2014.